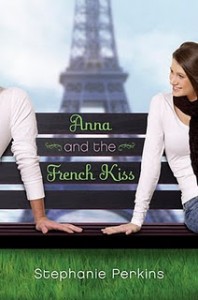 Anna is happy in Atlanta where she lives with her mother and little brother – looking forward to her senior year of high school,  hanging out with her best friend and working at the local movie theater with her could-be boyfriend. All that changes when her father decides that she should spend her senior year at a boarding school in Paris and no amount of pleading will change his mind.
Paris, of course, turns out to be not such a bad idea – she soon makes friends, starts exploring the city and works on her dream of becoming a film critic. And she meets Etienne St Clair, he of the beautiful hair and charming personality. But wait – he has a girlfriend and what about her crush back home in Atlanta? Will they just be friends, or something more?
Anna and the French Kiss follows Anna through the year, from her first nervous days to her blossoming confidence and growing circle of friends. At first, it's a little hard to sympathize with Anna – forced to live in Paris! I should have such problems! But her initial loneliness and homesickness are universal emotions and her courage to overcome them soon have you rooting for her. She's smart and funny and determined – exactly the kind of person you'd like to have as a friend.
While Anna and the French Kiss is light and funny, it's also well-written and sharp, with a diverse cast of characters and realistic emotions. The opening chapters, when Anna is still learning about her new city, are actually a good introduction to Paris and Parisian culture; the visit to Pere Lachaise Cemetery is especially funny and educational. It's the perfect combination – great city, great characters, great fun.