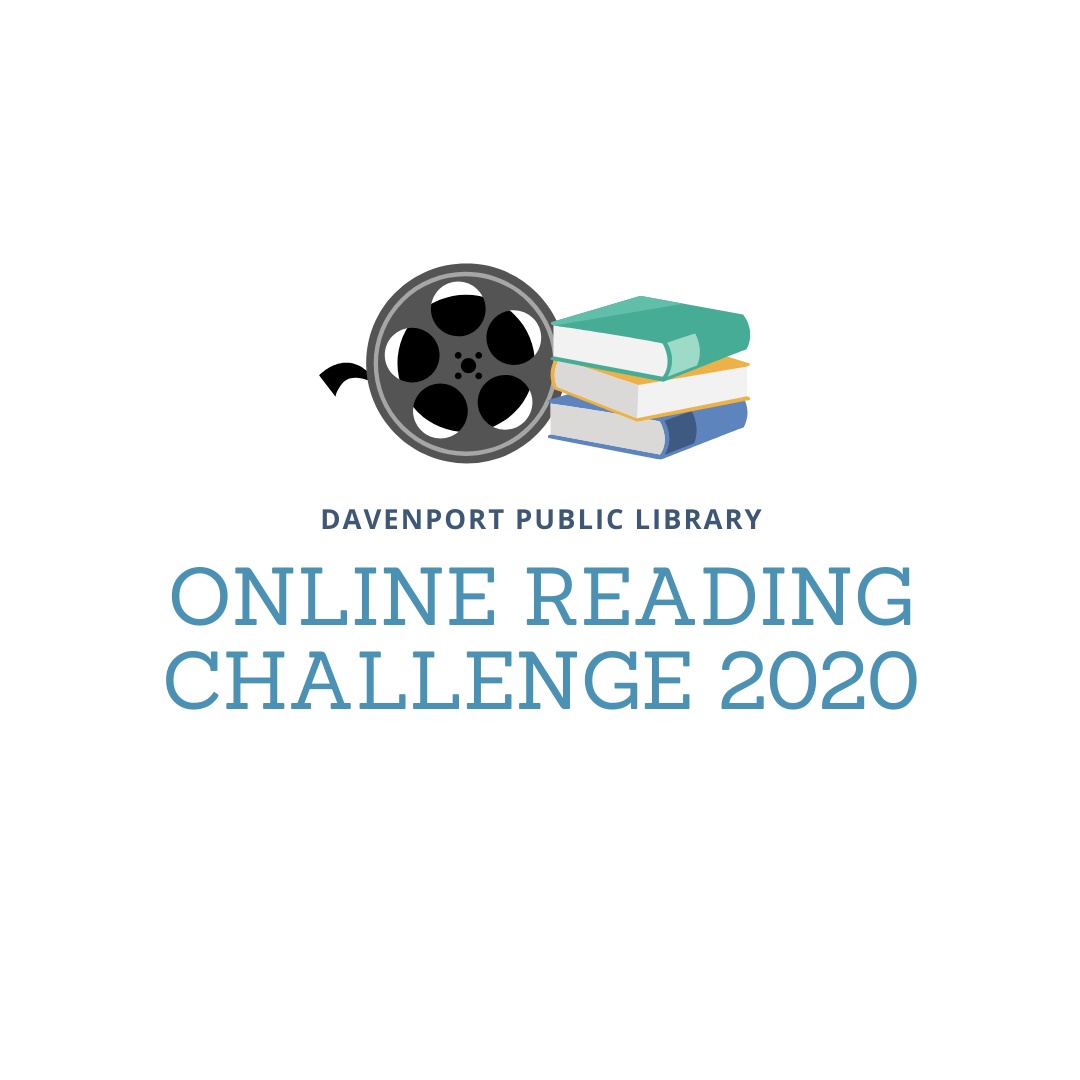 Hello Challengers!
It's a New Year and a New Online Reading Challenge! Hurrah! Unlike those pesky New Year's Resolutions that try to "fix" you and are usually abandoned within a few days, the Online Reading Challenge is all about having fun and trying something new with no pressure. Read as much or as little as you like, whenever you like. And you get to choose what to read from a list of suggestions – no more getting stuck using your precious reading time on a book you really don't want to read!
Our 2020 theme is "From Film to Book". We're going to take iconic films (you're probably familiar with the basic story even if you've never seen the film) and read books that have a similar setting or time period or theme.  At the beginning of each month I'll talk about the film a bit and then list some suggested titles. There will be displays at each Davenport Library location with more ideas, plus you'll want to stop in and pick up a Online Reading Challenge book log/bookmark which lists the film for each month and even has room to list the books you read!
OK – time to get started! Our first film is Casablanca with Humphrey Bogart and Ingrid Bergman.  Surely everyone is familiar with this film – the love triangle, the bar, the famous song, the final scenes at the airport.  Set in 1942 in Casablanca, a city teeming with refugees desperate to escape Nazi-occupied Europe, it embodies loyalty, sacrifice, friendship, patriotism and love.
There are a couple of different routes you can take when looking for this month's book. World War II has long been a very popular subject for books and there is no shortage of excellent titles both in fiction and non-fiction. You could also read something set in Morocco (although there aren't many to choose from), stories about refugees or the French Resistance or any wartime romance. And any book set during World War II will qualify (remember – there are no Library Police!)
I've always been interested in World War II and have read a lot set in that time period. A few of my personal favorites include:
All the Light We Cannot See by Anthony Doerr  (blog post)
The Nightingale by Kristin Hannah (blog post)
The Huntress by Kate Quinn (blog post)
City of Thieves by David Benioff (blog post)
Everyone Brave is Forgiven by Chris Cleave (blog post)
The Guernsey Literary and Potato Pie Society by Mary Ann Shaffer (blog post)
The Madonnas of Leningrad by Debra Dean (blog post)
A Thread of Grace by Mary Russell (blog post)
Check the displays at each of the Davenport library locations for lots more titles!
I'm planning on reading The Last Train to London by Meg Clayton. It's fiction based on a true story about a woman in The Netherlands helping Jewish children in Europe escape to England. Can't wait to get started!
Now, what about you? Will you be joining us in this year's Reading Challenge? What do you plan to read in January?