It's time to take out our stash of colored paper and puns and write those Turkey Notes!
Luckily, the weather is conspiring to keep us all indoors this week, so you should have plenty of time to lovingly craft a special Turkey-themed poem for each of your loved ones.
If you're wondering what on earth we're talking about, our standard explanation for this Davenport tradition is here.
And our annual staff examples are here:
Turkey red
Turkey blue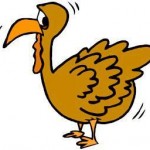 Turkey said
 I'll keep an eye out for you!
Turkey brown,
Turkey navy,
Turkey says please pass the gravy!
Turkey black
Turkey gold
Turkey says,
"Eat before it gets cold!"
Turkey red
Turkey blue
Turkey said
I need to run fast from you!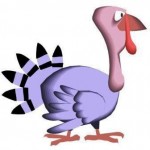 Turkey brown,
Turkey green,
Turkey wants a giant tv screen.
Turkey ground
Turkey sky
Turkey says,
"Where's my pie?"

Turkey red,
Turkey blue
Turkey says Happy Thanksgiving to you!