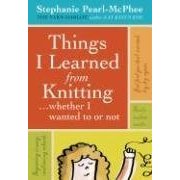 This little book is filled with essays on life lessons, often learned the hard way, as shown through the craft and art of knitting. Things I Learned from Knitting is sharp and funny, written with a dry sense of humor and underlined with truth and generosity. Stephanie, a self-described knitting humorist and philosopher, has been a long-time presence on the internet with her very popular blog where she's known as the Yarn Harlot.
Examples of Stephanie's observations that are true in life as well as knitting include:
-Babys grow
-Beginning is easy, continuing is hard
-Everything is better so long as it's happening to someone else
-Idle hands are the devil's workshop
She also includes a list of the health benefits of knitting, what to do if the airline won't let you fly with your knitting needles and 5 reasons why knitting is better than video games, all delivered with tongue firmly in cheek.