March 13, 1868 tells the story of the massive ice gorge that occurred on the Mississippi as the rain and spring thaw caused the ice to go out. The ice gorged above the bridge and at the bend in the river below Davenport, sending flood waters and chunks of ice, up to Second Street and down to City Cemetery, damaging everything in its way. As the ice piled up, the bridge was swept out of position, one span was moved off a pier and another pier was moved sixteen feet. Houses were set afloat, basements were flooded, lumber was strewn about, walls caved in, logs were torn from moorings, giant chunks of ice piled high.
"If you will imagine a huge ice wall, or rather a series of walls, crowded and jammed together and piled on top of each other in every possible manner, blocks of ice two feet in thickness and from four to ten and twenty feet in diameter composing the material, and the whole mass varying from fifty to two hundred feet in thickness and from twenty to forty feet in height – with this picture in the eye of the reader, possibility a faint idea of the reality may be attained." Daily Gazette, Friday, March 13, 1868, page 4
Even as the reporter was surveying the damage, workmen were starting to repair the bridge, gather the lumber, pump out cellars, and clean the streets.
 Though this photograph of the Mississippi River was actually taken over fifty years later,  on January 26, 1921, the view might have been quite similar in March of 1868:*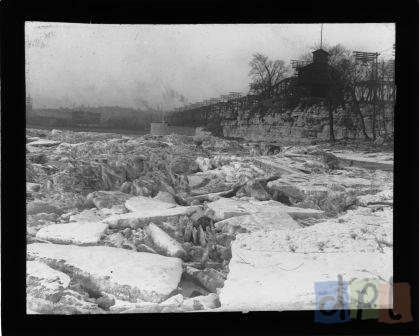 *This image is posted with the gracious permission of Augustana College in Rock Island, Illinois. 
  Augustana is a member of the Upper Mississippi Valley Digital Image Archive.