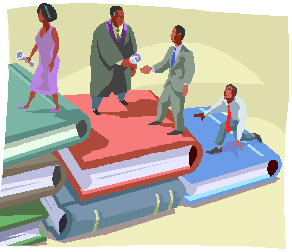 Since 2004, libraries across the world have organized events about freedom and issues that matter to their communities during the month of September. This grassroots project favors free over fee, public over private, and voices over silence. This year, the Davenport Public Library is posting blogs relating to freedom and democracy, as well as hosting displays about these topics. For more information about the September Project, visit www.theseptemberproject.org
One way libraries and librarians protect your freedom that you probably aren't even aware of, is Collection Development. That's a fancy librarian term for what we do every day – buy books (and movies and magazines and audio materials, etc ) But there's something serious here too – the reference librarians work hard – including going to school and getting a Master's Degree – to make sure that our collection is balanced and that it, within publishing and money constraints, has something for everyone.
Let's say you're an ardent vegetarian. Great! We have books on cooking for the vegetarian and the vegan, books on how to grow your own vegetables and books on the health benefits of this lifestyle. But we also have books about cooking meat and books about baking with sugar and butter. We have books that will appeal to various political parties and religious beliefs, books that cover nearly every opinion and belief with no favoritism for one or another.
Just one of the services your public library provides – upholding the ideals of the Constitution of the United States.