Okay, so I like to think I would defend our intellectual freedoms under desperate circumstances, but what if I was mysteriously kidnapped and dropped into an Utopian community? Yes, I lose my name and I cannot leave the city limits or this weird orb-like creature will eat me, but everyone is so happy and intelligent and beautiful.  All I have to do is stop asking questions and I could be content like them. And they have parades, like, everyday.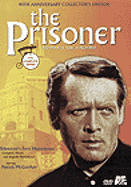 This is the basic plot of The Prisoner–a 1960's cult British program starring Patrick McGoohan. McGoohan plays an ex-British Government employee who wakes up to find himself in "The Village" with everyone calling him number Six. Unlike me, Six is not charmed by the pretty landscaping and golf cart rides; he spends all 17 episodes in a constant mind-battle with number Two while alternately trying to escape and find out who is number One. Just writing this blogpost, my brain has gone into overdrive remembering the mental exercise I received from watching this show: What freedoms do I have? What freedoms do I not have? What freedoms would I not realize were gone? What freedoms would I allow to be taken in order to be happy? Would I know the difference between freedom and the illusion of freedom? Ack! Thought-provoking television!
You've got several options on experiencing the Prisoner:
Be seeing you!