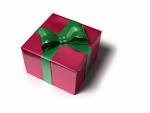 Already tired of shopping and it's only the beginning of December? Are you having a hard time coming up with new gift ideas — particularly ones which are easy on the pocketbook? No sweat — here's the perfect gift. See if you can guess what it is.
It's small and requires no elaborate wrapping.
It requires no batteries and it has no moving parts, so it can't wear out.
You can use it again and again and again, for many years to come.
It's one size fit's all.
It is equally appropriate for men, women, children, teens and seniors.
It can help you do your homework or help you get a job.
It allows you to virtually travel to anywhere in the world.
It saves you money.
It allows you to enjoy a vast array of vicarious experiences.
It never goes out of style.
No waiting in long lines.
And best of all — it's absolutely FREE!
You guys are smart, so I'm assuming you've already determined exactly what this perfect gift is – a library card! Just bring current id with your Davenport address (children under 18 also need to bring a parent to sign for them) and fill out an application today – it's quick and easy!