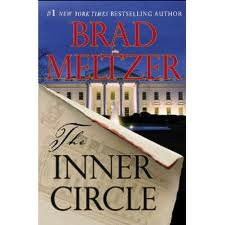 Recently, I met best-selling author Brad Meltzer in a Chicago book store.  Naturally, I picked up an autographed copy of his newest novel, The Inner Circle.  (He had a large following — I had to wait in line a long time!)
The book revolves around Beecher White, a young archivist who loves his job at the National Archives.  When his childhood crush, Clementime, shows up seeking help in tracking down the father she never knew, he takes her on a private tour, and even shows her the secret vault used only by the  President.  Within moments ( is it by accident or plan?) they discover a priceless artifact hidden under the President's chair.  Minutes later, the security guard who admitted them to the vault is found dead.  In hours,  Beecher is on the run, unsure who he can trust,  yet frantically trying to stay one-step ahead of his pursuers by successfully decoding concealed messages.
This is a fast-paced read and those interested in political conspiracies or action-packed thrillers will be entertained with all the unexpected twists and turns.  Initially, I wasn't certain about the ending, but then it made more sense when I read that  Meltzer has a sequel planned, using  Beecher again as the primary character.  He is a rather lovable archivist, after all.
For those who may be further intrigued by the mysteries of symbols and codes, check out the author's show on the History Channel, Brad Meltzer's Decoded.