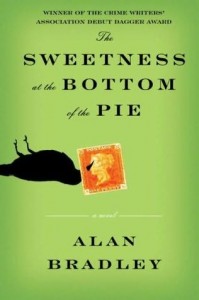 I don't read a lot of mysteries, but at the suggestion of a good friend I picked up The Sweetness at the Bottom of the Pie, the first in a series by Alan Bradley starring wannabe detective Flavia de Luce.  Flavia is one of the most unique protagonists I have seen lately:  she's smart, inquisitive, resourceful, and witty.  She has an obsession with chemistry, especially poisons.  Oh, and did I mention that she's eleven years old?
In The Sweetness at the Bottom of the Pie, we are introduced to Flavia and her family, who are living in an estate called Buckshaw in England in the 1950s.  Her mother disappeared when she was a baby, so Flavia is left with her distant father, her antagonistic older sisters, and man-about-the-house Dogger.  Things are boring as usual at Buckshaw when Flavia discovers a dead man in their cucumber patch in the middle of the night.  When Flavia's father is taken into custody as the prime suspect, Flavia gets on the case to find out who really did it and prove her father's innocence.  Flavia follows a series of initially puzzling clues (including an antique postage stamp and a dead bird) that lead to the identity of the killer, making for an exciting and surprising climax.  I listened to the audiobook and it's very enjoyable; the reader manages to capture Flavia's spirit very well and make it an exciting listen.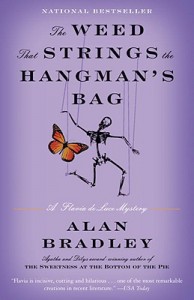 After finishing this book I had to immediately go out and pick up a copy of the second in the series, called The Weed that Strings the Hangman's Bag.  Flavia meets a traveling puppet show team whose car has broken down, and so they elect to do a series of shows in Bishop's Lacey while they are waiting for the repairs.  When the star of the show is murdered, of course Flavia is the first one on the case.  I'm in the middle of it right now and I'm glad to say that Flavia has kept her cheek and tenacity fully intact.  The third book in the series, A Red Herring Without Mustard, just came out a couple months ago to rave reviews, and it's certainly next on my "To Read" list.  If you like mysteries with a strong female protagonist, the charming setting of England, or mysteries that really keep you guessing right up to the end, this series will not disappoint.  Even if you don't usually read mysteries, I recommend checking out this series, because I'm sure you'll enjoy getting to know Flavia de Luce.