Coming October 7

The Visitor – Richard Jenkins, Hiam Abbass
In a world of six billion people, it only takes one to change your life. Richard Jenkins stars as a disillusioned Connecticut economics professor whose life is transformed by a chance encounter in New York City when he discovers two illegal immigrants living in his city apartment.
Sleeping Beauty – 50th Anniversary Edition
Don't Mess with the Zohan – Adam Sandler

Coming October 14

Indiana Jones and the Kingdom the Crystal Skull – Harrison Ford, Cate Blanchet
Indy's back and more fun than ever. Set during the Cold War, this time Indy's nemesis is the Soviet Union and the race is for the ultimate power to control people. Sly references to the first three films, the return of a favorite character and a new sidekick keep things fun and the action lively.
Mongol: the Rise of Genghis Khan
Coming October 21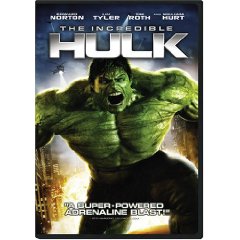 The Incredible Hulk – Edward Norton, Liv Tyler
Mild-mannered scientist Bruce Banner has searched the world for a cure for his affliction, caused by a military experiment gone wrong. Whenever his emotions get the better of him he turns into a raging, green monster – the Hulk. Banner struggles to avoid the pursuit of the military and battles a new and fearsome monster.