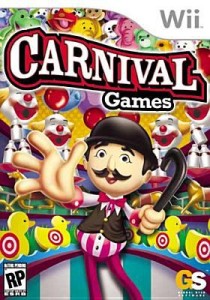 Summer is my favorite time of year. School is out, the weather is getting warmer, summer reading programs begin, and the best part of summer starts: carnival time! Fairs, carnivals, and rodeos are my favorite way to spend a hot summer night with friends. Confession: I am not very good at carnival games. My hand-eye coordination is, to put it politely, lacking. This does not lessen my desire to play and actually makes me strive to become better every year. My newest way to practice, besides going to the arcade or setting up a mini-carnival with the kids in my neighborhood, is to play Carnival Games, a videogame available at the Davenport Public Library for the Wii.
You may be wondering how playing a videogame actually prepares you to play real carnival games. The use of the Wii remote, instead of a regular game controller, allows players to practice the motion as they are throwing the sledgehammer to test their strength, as they are throwing the ball in Skee Ball, or even as they are trying to dunk someone at the dunk tank. One major bonus to this game is that it allows up to four players to play at a time, which makes each carnival game more of a competition, just like a real carnival! Carnival Games offers over 25 different games of chance and skill that can be found at carnivals across the nation. In addition to allowing players to customize and accessorize their own character, this game revels in the carnival spirit: with bright lights, patterns, and people of all kinds milling around the game.
Check out this game today and play games like Balloon Darts, Ring Toss, Hole in One, Shooting Gallery, Meter-O-Love, and many more. And if you're lucky, you will beat the rest of the people you are playing against and win one of the over 250 virtual prizes available.