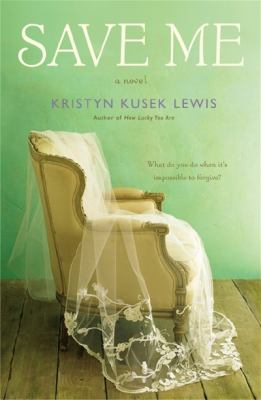 Save Me by Kristyn Lewis is compulsively readable. I'm trying to pin down in my own mind what it is  that makes it impossible to put down once you start reading. Maybe it's the contrast of the confessional style and the sudden vulnerability of the main character with her previously almost perfect life. Daphne is someone who's always been very controlled and successful at everything she did.
A high achieving doctor, with a perfect Martha Stewartesque home, garden and career, she, on the surface, doesn't seem like someone you'd warm up to right away. After her husband and childhood sweetheart confesses that he'd had an affair, her predictable life and all her assumptions are blown apart. A car accident changes the trajectory of the story and the usual expectations of this type of novel. Family and friends are quick to give Daphne advice about whether or not she should leave her husband, and Lewis shows the complexity of any decision Daphne may make.
As a second time novelist, Lewis is very accomplished and assured. I can't think of any passages or sentences that seemed false or clunky. Part of the appeal is the setting. You get a feeling of  Durham and Chapel Hill, North Carolina in a natural, unforced way.
This was marketed to book groups, and I would predict spirited discussions about the choices Daphne struggles with.