Several recently published books focus on the wives of famous men – after all, who know the triumphs and failings of the great man better than the wife? Get an intimate, behind-the-scenes look of these historical men with these great titles.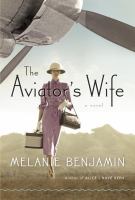 The Aviator's Wife by Melanie Benjamin – Despite her own major achievements – she becomes the first licensed female glider pilot in the United States – Anne Morrow Lindbergh is viewed merely as Charles Lindbergh's wife. The fairy-tale life she once longed for will bring heartbreak and hardships, ultimately pushing her to reconcile her need for love and her desire for independence, and to embrace, at last, life's infinite possibilities for change and happiness.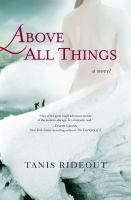 Above All Things by Tanis Rideout – Blending historical facts with imaginative fiction,  this title interweaves the story of George Mallory's ill-fated 1924 attempt to be the first man to conquer Mount Everest and a single day in the life of his wife as she waits at home in England for news of his return.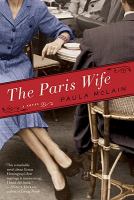 The Paris Wife by Paula McLain – Meeting through mutual friends in Chicago, Hadley is intrigued by brash "beautiful boy" Ernest Hemingway, and after a brief courtship and small wedding, they take off for Paris, where Hadley makes a convincing transformation from an overprotected child to a game and brave young woman who puts up with impoverished living conditions and shattering loneliness to prop up her husband's career.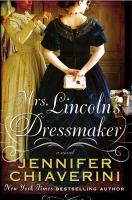 Mrs. Lincoln's Dressmaker by Jennifer Chiaverini – A stunning account of the friendship that blossomed between Mary Todd Lincoln and her seamstress, Elizabeth "Lizzie" Keckley, a former slave who gained her professional reputation in Washington, D.C. by outfitting the city's elite. Keckley made history by sewing for First Lady Mary Todd Lincoln within the White House, a trusted witness to many private moments between the President and his wife, two of the most compelling figures in American history.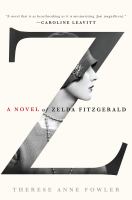 Z : a Novel of Zelda Fitzgerald by Therese Anne Fowler – When beautiful, reckless Southern belle Zelda Sayre meets F. Scott Fitzgerald at a country club dance in 1918, she is seventeen years old and he is a young army lieutenant stationed in Alabama. Before long Zelda has fallen for him despite his unsuitability: Scott isn't wealthy or prominent or even a Southerner, insists that his writing will bring him both fortune and fame. Zelda optimistically marries him and take the rest as it comes. What comes, here at the dawn of the Jazz Age, is unimagined attention and success and celebrity that will make Scott and Zelda legends in their own time.