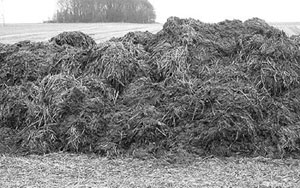 At one time the current quandry wasn't the transition to hi-def TV, or television at all for that matter. What's "stereo" mean, sonny?
On the Illinois side of the river was a signal at 1230 AM, the entire run from 1946-1983 is detailed in WQUA: Moline's hometown station. It's a delight to read about a simpler sonic time, when the day (choppy as it may have been formatically) was filled with personalities and public service blasting out of downtown Moline with a mere 500 watts of monophonic glory. Draw your own comparisons to todays offerings.
Toward the end you'll recognize a few names of today's local senior statesmen of radio and television.
Marvel at this 1950's stunt from Ed Grennan's Problems and Solutions program…
"One time a man from the sewer department called and said he had a large quantity of human waste that had been processed into fertilizer. Evidently it was good for gardens. The city was giving it away for free, but the people had to bring their own buckets and shovels. I'm not kidding you…I had 500 people out there shoveling ****."