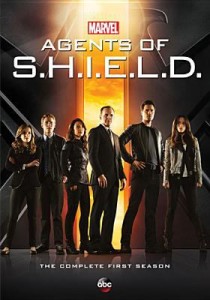 Are you interested in starting a new TV show but are having trouble deciding what to watch? I don't blame you! Picking a new show to watch takes time and consideration, and no one wants to have their heart broken when they find out their favorite new show has been cancelled after one season. Personally, only two new shows made my DVR cut last year. I thought I could broaden my radar on new shows by asking members of the DPL staff to share what new shows they have tried out. The following is a list of recommended new TV shows that include a review by a DPL staff member. First seasons of all shows are owned by DPL.
Agents of Shield – Action – Currently in season 2 – This series is in limbo! It has not been renewed for a third season, but it also has not been cancelled.
If you're a fan of Marvel movies—specifically Iron Man and Iron Man 2, Thor, and The Avengers—then you're familiar with Agent Phillip J. Coulson (Clark Gregg) of the Strategic Homeland Intervention, Enforcement and Logistics Division, a covert government agency that stamps its logo on everything without fear because it's just that good.
Anyone who has watched The Avengers, knows that Agent Coulson died at the hands (and spear) of Loki, an outrage to superheroes and audiences alike.  We don't know how—he doesn't know how—but he's back and leading a new team on an enormous plane called "The Bus" to investigate the increasingly weird stuff that has been happening since the Battle of New York.  There's abandoned Chitauri technology to collect, ancient alien artifacts to break, mad scientists to stop, random Asgardians to ferret out, several evil organizations with cool acronyms to thwart, and one resurrection of our favorite secret agent to explain.
Running simultaneously with the movies, Coulson's team wins some, loses some, fights to a draw a couple times, bonds, and faces a personal betrayal as devastating as the reveal of HYDRA.
And then things get weird . . . and totally Marvelous.
–Reviewed by Sarah  – Special Collections Librarian 
Brooklyn Nine-Nine – Comedy – Currently in season 2 – Renewed for season 3
I was initially very wary of Fox's Brooklyn Nine-Nine. I am a devoted fan of Andre Braugher*, from back when he brilliantly played the very intense Detective Frank Pembleton on Homicide:  Life on the Street. And now he's in a Fox comedy? With Andy Samberg? There were so many ways it could go terribly, painfully wrong. To be honest, I really didn't want to like it. And yet, I do!
Set in Brooklyn's 99th precinct, the half-hour comedy follows the precinct's detectives, led by Braugher's Captain Ray Holt through their personal and professional exploits. Samberg's Det. Jake Peralta is the goofball comedic lead, ably hitting the sweet spot between silliness and seriousness without  spilling over into incompetence. The cast, bolstered by veteran comedians Terry Crews, Chelsea Peretti and Joe Lo Truglio, plus Melissa Fumero and Stephanie Beatriz form a great ensemble of jarringly different personalities that mesh into a believably relatable police  precinct and a very entertaining show.
*Read a great profile of Braugher in the New York Times Magazine here.
–Reviewed by Allison – Reference Librarian
The Originals – Drama – Currently in season 2 – Renewed for season 3
Vampires, witches, and werewolves oh my! This show is about the ever famous New Orleans Quarter and the supernatural creatures that fight for control of it. Aptly named The Originals, the story line revolves around a family of vampires that are literally the first vampires on the planet. They have been around for about 1000 years. Lead character Klaus Mikaelson, played by Joseph Morgan, is a fantastic villain because he pretty much can't die due to his witch/werewolf/vampire bloodlines. I believe everyone on  the show has  tried at some point and they always come up short.  Klaus Mikaelson is definitely the bad guy, but you keep rooting for him because every once in awhile you see the hero he could be.
The Originals is actually a spin-off show of The Vampire Diaries ,which is currently in its sixth season. Klaus was the 1000 year old, all powerful vampire villain that reeked havoc on the vampires of Mystic Falls (the good kind of vampires) for several seasons. Many of Klaus' family members were also introduced on The Vampire Diaries. They were pretty much all evil and up to no good. However the characters became so important to the ever weaving story lines that they were given their own show. Since VD is so popular, an audience for this show was already in place. This is how I started watching the show.
While the WB network occasionally overlaps story lines and characters between these two shows, you don't have to watch the first five seasons of Vampire Diaries to understand what is going on in The Originals. If you are interested in this show, I recommended watching the first two seasons of The Originals. If you love it, then go back and get in on the Vampire Diaries.
–Reviewed by Bianca – Reference Librarian
Reign – Drama – Currently in season 2 – Renewed for season 3
I loved watching The Tudors on Showtime.  I watched England's King Henry VIII divorce two wives, behead two other wives, and lose one wife in childbirth.  His relationship with his daughters Mary and Elizabeth was never stable, and at the end of the show we know that Elizabeth will someday take the throne and rule England for 44 years.
I was excited when I heard about Reign.  The show's central character is Mary, Queen of Scots, the rival of Queen Elizabeth of England.  We learn that Mary became Queen of Scotland when she was only six days old.  The show starts off with Mary living in a convent in France.  After an attempt on her life, Mary goes to the French palace to be reunited with her betrothed, Francis, the Dauphin of France.  Mary's ladies in waiting from Scotland join her at the French court.
If you are looking for a realistic retelling of the life of Mary, Queen of Scots, then you do not want to watch this show.  Reign is nothing like The Tudors.  Reign takes a lot of liberties with the story of Mary, Queen of Scots and King Francis II of France.  While Reign may not be historically accurate, it is fun to watch this young couple try to learn how to be married and learn how to govern two countries.  In every episode, one of them has a crisis that must be resolved.  If you are looking for a fun show with a strong female lead character, then you would enjoy Reign.
–Reviewed by Rachel – Reference Librarian
Resurrection – Science Fiction – Currently in season 2 – In limbo
ABC's Resurrection started as an accidental viewing for me. It was right after Once Upon A Time (sooooooo good!), so I recorded it on pure coincidence. I ended up watching the pilot and not understanding a single thing by the end of it. Really, the entire show goes on like this. But it sure is fun trying to figure it out!
It follows the story of the residents of small town Arcadia, Missouri, both living and undead. By coincidence, government agent Martin Bellamy, who has his own secrets, is sent to return a child who will become one of the many Returned. The Returned are people who have been brought back to life, mostly family members of the residents, unaged and identical to before they were dead. The disturbing thing is that NOBODY knows why or how. Agent Bellamy and the town doctor Dr. Maggie Langston team up to investigate, but they both have things to hide and so, it seems, does everyone in town.The show trumps every single thing you guess, which makes me excited for the big reveal. It has an eerie feel to it, like The Twilight Zone, and has a fairly unique cast that includes some famous names like: Kurtwood Smith and Frances Fisher. An overall entertaining show if you like the supernatural and suspense, which I do!
–Reviewed by Camille – Student Clerk Aide
Sleepy Hollow – Drama – Currently in season 2 – In limbo
This show is loosely based off of The Legend of Sleepy Hollow by Washington Irving.  Ichabod Crane is an American soldier and spy for General George Washington.  During a battle, Crane encounters a Hessian soldier and cuts off his head while the Hessian soldier simultaneously mortally wounds Crane.  Their blood intermingles and two men lives are joined by a blood spell.  When the Hessian soldier, better known as the Headless Horseman, rises again, Ichabod Crane will rise too.
Ichabod Crane finds himself alive in present day Sleepy Hollow, New York.  The town is being terrorized by the Headless Horseman.  One of the victims was the Sheriff. His partner, Lieutenant Abigail Mills, witnessed his death.  But it turns out that she isn't just a witness, she is one of the Witnesses from the Book of Revelations.  The other Witness is Ichabod Crane.  It is up to Crane and Mills to fight evil and stop the first horseman of the Apocalypse.
As the show progresses, viewers learn that the founding fathers were not only battling the British, but they were fighting against the Apocalypse.  Various historical figures appear during the show, including George Washington, Thomas Jefferson, Benjamin Franklin, Paul Revere and Abigail Adams.  The show takes pieces of American history and turns them into clues against the war against evil.  For example, in one episode, Benjamin Franklin was flying his kite in a thunderstorm to destroy a mystical key.  He was not trying to do an experiment on electricity.
Sleepy Hollow is a combination of the American history, fantasy, detective story and the Book of Revelations.  It will appeal to fans of the Da Vinci code, fans of American history and fans of Washington Irving's tale.
–Reviewed by Rachel – Reference Librarian
True Detective – Drama – In between seasons – Season 2 airs summer 2015
Matthew McConaughey and Woody Harrleson star as detectives in this HBO drama. That could be the end of this review, because honestly these two actors are phenomenal on their own and make an even better team. With HBO as its network, you can basically guarantee a hit show. For those of you that need a little more convincing…let me set the seen. The TV show is technically spent in present day, but most of the story unfolds through the story telling of Rust Cohle (McConaughey) and Martin Hart (Harrleson) about an investigation they worked together in 1995.
In 1995, Cohle and Hart are paired up to lead a complicated murder investigation. Cohle is new to unit and gives off a very creepy vibe. Even Hart is reluctant to pair up with him and is often baffled by Cohle's unorthodox methods. As we twist and turn through the season, Cohle and Hart's partnership blooms as they near catching the killer. Simultaneously bits and pieces of present day Cohle and Hart are uncovered as they are separately questioned about the 1995 case. In present day Hart is working as a private investigator, and Cohle is bartending on the outskirts of town after having dropped off the face of the earth for a decade. As the stories weave back and forth we inch towards the closing of the 1995 case and learn more and more about what has happened to these two detectives in the years in between. This all leads to discovering why Hart and Cohle are being questioned about a murder case that was closed 17 years ago.
Viewer discretion is advised for this series as it includes many adult elements.
-Reviewed by Bianca – Reference Librarian
Witches of East End  – Currently in season 2 – Cancelled by Lifetime, but there is a nation wide campaign to air a season 3.
Talk about a guilty pleasure! If you were a big fan of the TV series Charmed back in the day like I was, then you will love Witches of East End. It also centers on a powerful group of strong 'witchy' sisters.  The Witches of East End was originally from a novel by Melissa de la Cruz.  The story focuses on family matriarch Joanna Beauchamp (played by Julie Ormand) and her two adult daughters, Ingrid and Freya (played by Rachel Boston and Jenna Dewan Tatum). Joanna Beauchamp is a witch and knows it but her daughters are completely unaware about their magical backgrounds as they go about their lives in a secluded seaside town.  However, when Joanna's estranged sister and the girls' Aunt Wendy Beauchamp blows into town with secrets of her own, it's not long before the girls find out about their unique family history and their powers.
I can't forget to mention that all of the characters are intriguing and well-cast with very juicy story lines! I can honestly say that I finished the whole series in about 2 days! Filled with romance, zombies, ghosts, and surprise twists and turns to keep you entertained, this show has become a surprising favorite of mine. I eagerly wait for the 2nd season of this show.
-Reviewed by Shaniece – Senior Clerk