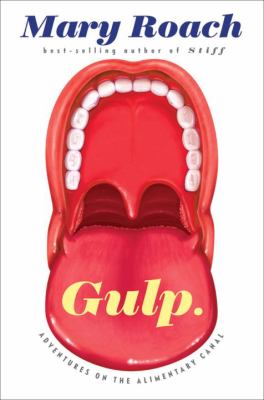 Guest post by Laura
I am interested in health in general and digestion in particular but was expecting a somewhat dry tour of the digestive system when I checked Gulp by Mary Roach out. After all, the alimentary canal is the route along which food passes through the body from entry to exit. How exciting can details about the esophagus, stomach, and intestines be, right? Wrong!
The author has a sharp wit and sense of humor that isn't afraid to tackle taboos. She explores the scientific study of various digestive mechanisms from ancient to modern times. One of these ongoing science experiments was between Alexis St. Martin who was accidentally shot in the stomach with a musket and William Beaumont who would conduct experiments using the open hole left after the wound healed. Rather than reading like a school science textbook documenting the methods and findings, she goes into the human aspect of the drama of the sometimes strained relationship between the two men along with the scientific details biology geeks will eat up. Pun absolutely intended.
From the probable origins of the fire-breathing dragon legend to competitive eaters, this book has facts and stories that both entertain and inform. I usually read or listen to audiobooks during my lunch hour and it takes a lot to make me queasy but I have to admit I had to turn it off once because of the content. Overall, this was a gratifying romp through the alimentary canal with some fun, grossness, and enlightenment along the way.