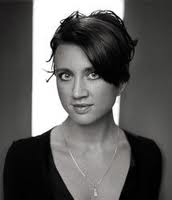 Camilla was 29 when she published her first novel, The Ice Princess, in 2003. Three years later, her prize-winning books were topping the Swedish bestseller lists. She based her books in her own hometown of Fjallacka Sweden. The Main characters are Patrik and Erica. Patrik is a policeman and Erica is a writer. Her books are a wonderful blend of suspense, mystery and romance. She has become the top selling writer in Sweden. She has written 7 books in her mystery series, but only 2 have been published in the U.S.
Ice Princesss ( 2009) After she returns to her hometown to learn that her friend, Alex, was found in an ice-cold bath with her wrists slashed, biographer Erica Falck researches her friend's past in hopes of writing a book and joins forces with Detective Patrik Hedstrom, who has his own suspicions about the case.
Preacher (2011) The discovery of two murder victims who were killed twenty years earlier is complicated by the body of a third, recent victim at the same location, a case that compels detective Patrik Hedstrom to investigate a feuding clan of misfits, religious fanatics, and criminals.