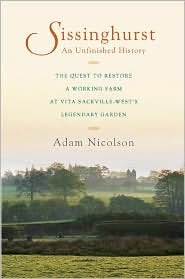 To be  honest, I only planned to skim this book when I picked it up, expecting  that it would be rather dry and academic. Instead Sissinghurst: an Unfinished History by Adam Nicolson turned out to be a fascinating, beautifully written history of a remarkable landscape.
To any gardener worth their compost, the name Sissinghurst is instantly recognizable as the site of one of the most beloved gardens in England. It's gardens, especially the famous White Garden, continue to influence and inspire gardeners today, 70 years after it was created. Sissinghurst was also the home of one of Englands most famous literary couples (and the creators of the gardens), Harold Nicolson and Vita Sackville-West. Now owned and managed by the National Trust, Adam Nicolson (Harold and Vita's grandson) wished to bring the land surrounding the castle and gardens back to their earlier incarnation as a working farm with all that that involved – an integrated system of meadows, grain, crops, fruit, vegetables and livestock as well as managed woodlands. It was a landscape that encouraged diversity, sheltered wildlife and sustained a strong community.
Nicolson covers the wide-ranging history of the estate, how the land shaped the people that lived there and how people shaped the land. Nicolson's proposal to return parts of Sissinghurst to farm initially met with resistence that surprised him and had to be addressed. Through it all, his fond memories of growing up on the estate beautifully illustrate both the beauty of and his love for the land, it's history and it's people.