A noon day parade. Flowers sent from the garden of movie star Ginger Rogers. Big executives in town. Search lights across the sky . An American Legion band furnishing a musical background.
What was happening??
Why, everyone was getting ready for the grand opening of the new RKO Orpheum Theater in the Mississippi Hotel Building on East Third Street!
The theater was officially opened at 6:30 on Nov.25, 1931 to a packed house of 2,750 people. The very first person in line was Irene Tonn of Pershing St. She arrived at 5:10 at the ticket window.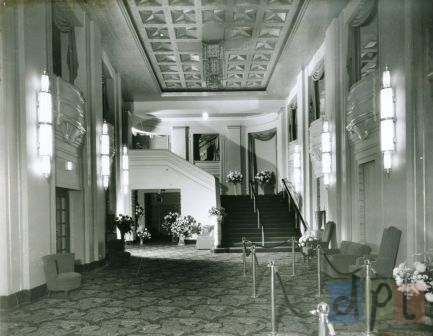 Those who flocked to the new theater were not disappointed. The architecture was modern, the lobby grand, and the colors just right to give a warm feeling. It was said that the harmony in the design of the building was brought about because one person, Henry Dreyfuss, held the design key from start to finish.
The theater boasted of having all the latest amenities. There were flawless acoustics.
Modern climate control made sure the temperature was comfortable for the audience. Even the lounge area was as grand as the rest of the theater. The backstage and projector rooms were as well equipped as the Palace Theater in Chicago; an electrical expert was even sent to Chicago to pick up a small chip that helped take the harsh sound out of the talking picture reproductions.
Show time! There were a few speeches and then on to the entertainment. There were two shows that night. The first part of the entertainment was five live vaudeville acts and then the first movie to be shown in the new theater: Suicide Fleet, a comedy starring Ginger Rogers, William Boyd, and Robert Armstrong.
The Orpheum was very popular from the beginning. The theater even struck a bargain with the Yellow Cab Co. for the first week: showgoers who took a cab to the new theater were entitled to a free return trip. All they had to do was save their cab receipt and ticket stub.
One other great thing about the new theater was it only cost fifty cents to get in! We can only dream.
Considered the area's finest theater in its heyday, the Orpheum entertained its audiences for decades, until competition and high overhead led the once grand theater into decline. On September 11, 1973, the Orpheum showed its final movie, Cleopatra Jones. Used rarely for concerts or stage productions, the theater was neglected and ignored.
Davenport Chamber of Commerce purchased the theater in 1981 and presented it to the River Center For The Performing Arts, Inc. for renovation. The newly renamed Adler Theater opened on April 16, 1986, with a concert by Burt Bacharach and the Quad City Symphony Orchestra.
(Posted by Pat)
___
"Executives of RKO in city for opening." Davenport Democrat, November 25, 1931.
"Fragile micro cell brought to aid talkie." Davenport Democrat, November 25, 1931.
"Open New RKO Orpheum: Davenport Interest Centers on Premiere of Splendid Playhouse at 6:30 p.m." Davenport Democrat, November 25, 1931
"Yellow Cab in novel Bargain opening week" , November 25, 1931