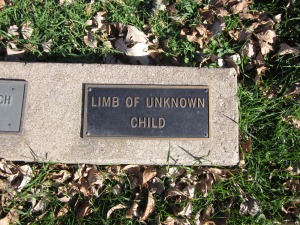 There are many mysteries to be found and puzzled over in our local cemeteries.
The one that we are asked about most often is a simple headstone found at the end of a very long row in the Iowa Soldiers' Orphans section in Oakdale Memorial Gardens.
Its epitaph is simple: "Limb of Unknown Child".
We know very little about the limb. It is entered into the interment records of Oakdale as a boy's leg.  No name or date is given.
Another mystery is the difference between the information in the interment records and the burial location. The limb is located in section T-E of the Orphans lot. But when the internment records were reviewed, the burial location is listed as T-F, or the next row up from T-E.
The grave number of the leg in both sets of records is #001. The two headstones to the left of the unknown limb belong to Jessie Rodecker (T-E #001), who died in 1883 and Dorothy Birch (T-E #001A), who died in 1949.  Neither appear to be the original owner of the limb.
We have searched the newspaper records for any mention of the amputation of an orphan's leg (or arm for that matter), but without success. None of the causes of death for the orphans buried in that area of the cemetery appear to be connected to the loss of a limb or other body part.
Many patrons ask us why a limb would be buried in the first place—still another mystery! However, we do know that in the past, the state of Iowa required limbs amputated above a certain area to be buried and not discarded. We also know certain religions require limbs to be buried.
So, what exactly do we know about the Limb of Unknown Child buried in Oakdale?
We have to be honest and say almost nothing—not our usual response!
If we ever learn more about this mystery we will certainly share it. And if any of our readers know about the limb, please share your information with us!
It would be nice to have a name to put with the face leg!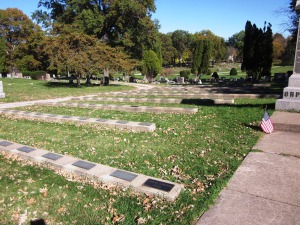 The Limb of Unknown Child headstone is located at the lower left hand of the picture.
To add a spooky layer to this post, we have one final note:
We have blogged before about the rumors of people hearing children crying in the Orphans' section in the dark of night.
As our staff member stopped by the cemetery on a lovely fall day to take pictures for this blog,  the area was nearly deserted, save for one or two visitors and a few cemetery workers in the next section over, mowing and leaf blowing.
Above all the noise of machinery, our staff member heard the sound of children's laughter.
No children were seen in the area.
(posted by Amy D.)