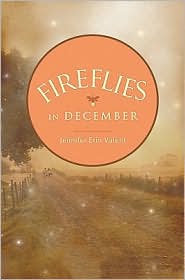 Do you love fireflies?  I do — but I still call them lightning bugs, just as we all did back on the farm.  There's something magical about them as they brighten up your backyard on a warm summer evening.  Recently, there have been reports that fireflies as a species are disappearing, or at least that their numbers are observably diminished.  Still, I have never seen a firefly in December, and so I was drawn to this title.
In Fireflies in December, a debut novel by Jennifer Erin Valent, we follow 13 year-old Jessilyn Lassiter during the summer of 1932 in southern Virginia.  The opening line, "The summer I turned thirteen, I thought I killed a man" certainly catches your attention.  We discover that Jessilyn's family has taken in her best friend, Gemma, after Gemma's parents die in  a tragic fire. Unfortunately, this act is not met with the expected tacit approval.  Gemma is black, and racism is rampant in this rural southern town.  Prejudice escalates as the local Ku Klux Klan violently threatens Jessilyn and her family.  In the end, Jessilyn begins to realize what it means to be a bright light in a dark world.
As this book is a winner of the Christian Writer's Guild,  there are frequent references to faith and prayer, yet it doesn't come off as preachy.  Considering the age of the protaganist, this book could be recommended for young adults, especially if their parents prefer more wholesome fare.