To most residents in the apartment above the J. M. Glaspell Grocery Store at 215 East 3rd Street life may have seemed happy and content.
Harry C. Watt was the head of that household. At age 31 years, Harry was a respected Civil War veteran and local cigar manufacturer. He lived with his wife of seven years, Mary Ann age 24, and five-year-old daughter Edna.
Mary Ann's younger sisters also lived with the Watt family. Louisa Filter, age 20, was a clerk in Petersen & Sons' Dry Goods store. Amelia Filter, age 16, helped her oldest sister keep house.
An assistant in Harry's cigar manufacturing business, John Schoening, also resided with them.
Mr. Watt had joined the 25th Regiment Iowa Infantry, Company G in 1862 at the age of 16 as a drummer boy. He remained in the unit through 1865. After the war, he moved to Davenport and became a respected cigar manufacturer and salesman. By 1879, he not only had his own small store, but also traveled around as a cigar salesman. He belonged to the Davenport Lodge 7 of Civil War Veterans and the International Order of Odd Fellows. Harry was, by all accounts, an upstanding citizen of Davenport.
Mary Ann, Louisa, and Amelia Filter were from Maquoketa, Jackson County, Iowa. Their father, Richard, still lived in Maquoketa with their stepmother and half-siblings. Their mother Elizabeth passing away in 1861. All three women were admired for their respectable character and ladylike demeanor.
As with most families, the Watts' had had their share of sadness as well. In April 1876, Harry and Mary Ann's three-day old son died. And in October 1878, near tragedy almost befell the family when Harry, who was cleaning his pistol in the kitchen in preparation for a sales trip, accidentally shot Mary Ann in the chest.
Doctors were called and they tried to remove the bullet, but were unable to find it. Though expected to die, Mary Ann went on to make a full recovery; even with the bullet still lodged within her chest.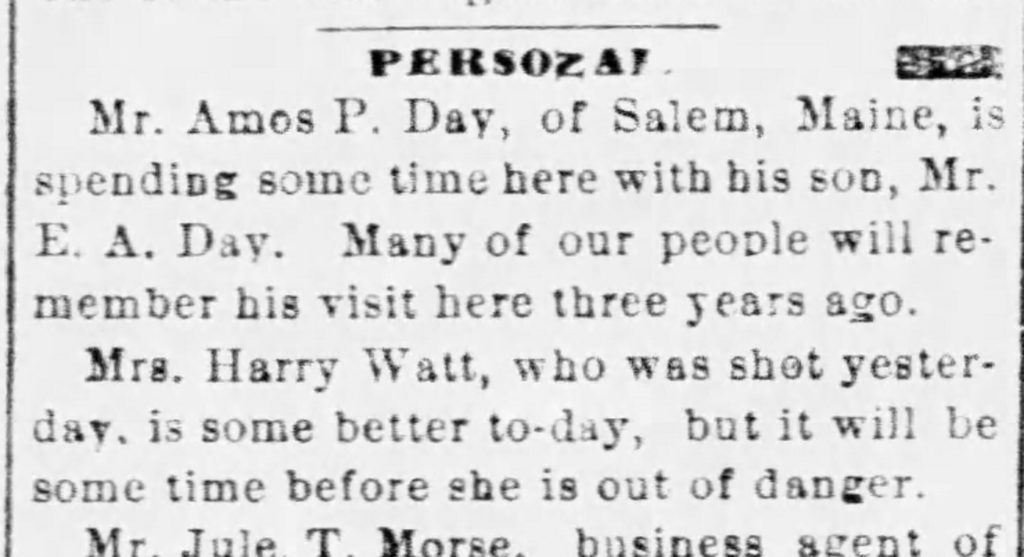 In January 1879, Henry opened a new cigar business at 103 West Second Street. The local newspaper had kind words at its opening.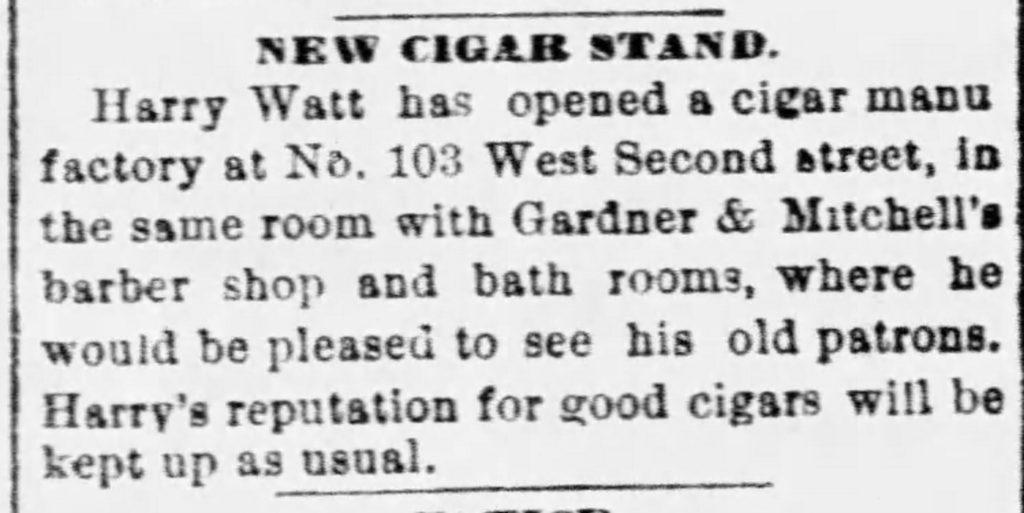 It was a typical evening when on April 4, 1879 the Watt and Filter family entertained in their apartment. Everything we know of the events of that evening and after comes from newspaper articles and the Coroner's Inquest.
Mr. James Rhoades had been visiting the family that April evening. A friend of Harry's, they had discussed upcoming elections and news events. Mary Ann, Louisa, and Amelia were all present that night as well. Mr. Rhoades reported to the inquest that everyone seemed in a fine mood when he left about 11:15 p.m.
After the departure of Mr. Rhoades, Harry had gone to stand outside. Being a cold, spring night Mary Ann called him to come in. When he delayed, Louisa volunteered to go get him. The two soon returned upstairs. Mary Ann scolded Harry for standing outside so long in the cold. He replied that all was well and he was only teasing she and Louisa by staying outside.
Harry and Mary Ann retired to their bedroom while Louisa went to the room she shared with Amelia.
Amelia changed quickly and got into bed as Louisa stood in front of the dresser. Amelia asked her sister if she was not coming to bed as well. Louisa responded that she would be there when she was ready. Amelia saw her sister take a drink from a glass and soon after Louisa collapsed on the floor.
Rushing to her sister, Amelia called for Mary Ann to come quickly as Amelia feared Louisa was dying.
Mary Ann ran from her bedroom to her sisters' room. She found Amelia trying to wake Louisa who was breathing in a shallow manner and lying still. In a panic, Mary Ann called for Harry. He quickly entered the bedroom and leaned over Louisa. He turned, left the room, and shouted for his assistant John Schoening to go fetch a doctor. John quickly left the apartment and ran for Dr. W. D. Middleton.
Mary Ann left Amelia cradling their sister and returned to her room for camphor*. When she entered her bedroom, Mary Ann found Harry laying still upon the floor.
John Schoening and Dr. Middleton arrived soon after to find Amelia cradling Louisa on the floor in their room as Mary Ann tried to awaken Harry on the floor in their bedroom.
At first, no one could figure out what had caused two healthy adults to collapse so quickly. It wasn't until Mary Ann found a small bottle near Harry that the truth became known. He had ingested poison as had Louisa.
Quickly, the apartment was filled with neighbors responding to the horrified screams of Amelia and Mary Ann. Two new doctors, Dr. Bawden and Dr. French, arrived as well.
Within minutes of the doctors' arrivals, Harry Watt died. Louisa lingered a little longer before dying. Neither regained consciousness before passing.
The next morning, an investigation into the deaths of Harry Watt and Louisa Filter formally commenced. Perhaps The Davenport Democrat of April 5, 1879 describes the situation best: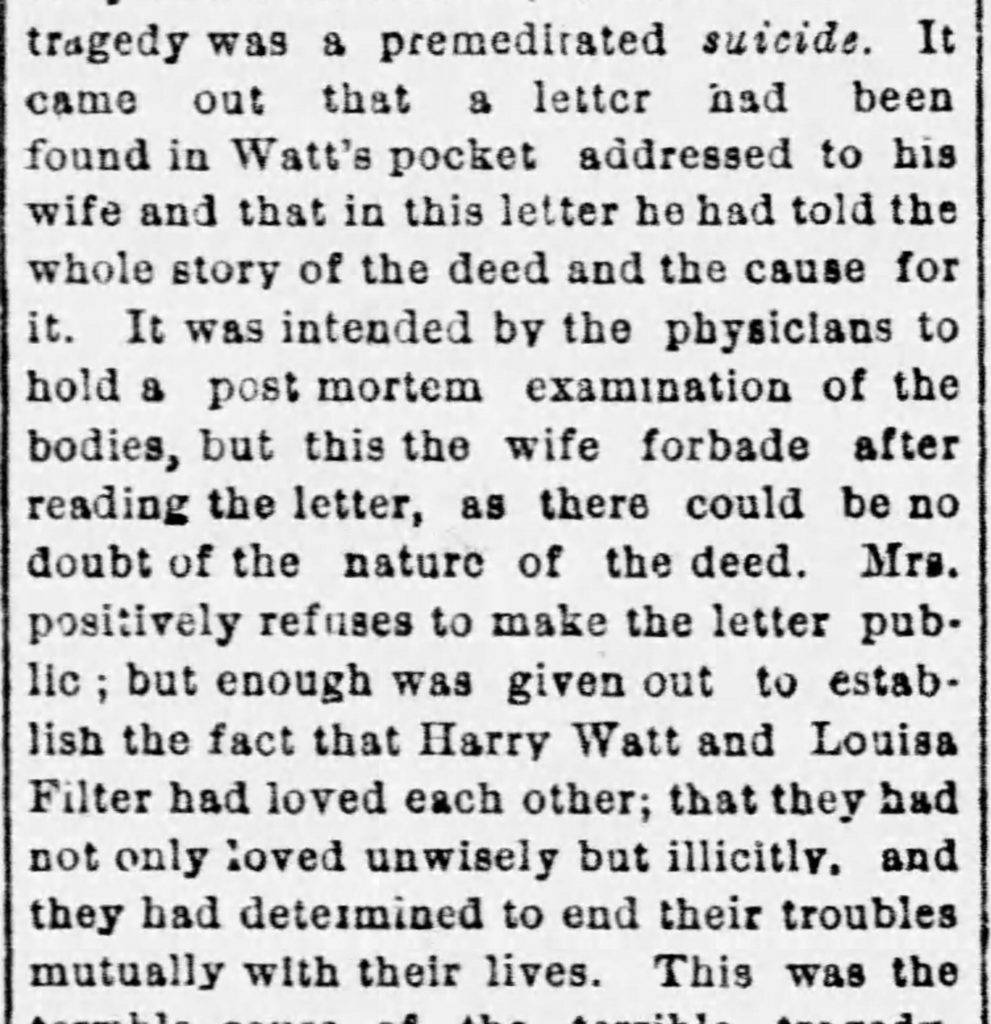 Mary Ann was given the suicide note found on the body of Harry Watt. Once it was read, Mary Ann refused to allow an autopsy of either body. The inquest took place on April 5th. Mary Ann, Amelia, John Schoening, James Rhoades, the doctors, and neighbors were all called to testify.
Mrs. Watt refused to allow the suicide note to be made public and it was not copied into the inquest notes. It was said, besides the Coroner, that only two other people were shown the note and they were sworn to silence by Mary Ann Watt.
We searched the Coroner's Inquest on microfilm at Richardson-Sloane Special Collections and did find the inquest of Harry Watt, but no written report on the inquest of Louisa Filter.
The inquest we did find brought to light that Harry Watt had purchased prussic acid (known also as hydrogen cyanide) along with ground cinnamon and hops from druggist Charles Harrison a week before the suicides. Mr. Harrison had warned Mr. Watt about the dangers of the prussic acid. Harry had responded that he was going to be very careful and he had read of a way to treat tobacco leaves with the ingredients to produce different colors on the leaves.
Throughout the inquest, those interviewed stated they never saw anything but familial kindness between the two. Harry was described as a kind husband and father who was a hard worker. Louisa, as a well-respected and congenial young lady who worked hard in her job and was a devoted sister. It wasn't until the funeral that neighbors began to whisper that they had seen the pair in dark alleys or shadows talking in serious tones in recent weeks.
Richard Filter was summoned to Davenport from Maquoketa, but he did not take Louisa's body back with him. Instead, Mary Ann Watt purchased half a lot at Oakdale Cemetery for her husband and sister to be buried. Newspapers reported on the rumor that Louisa was pregnant when she died and the assumption was Harry Watt was the father.
On April 6th, the funeral was held. Newspapers reported that three to four hundred persons stood on the street outside the building the Watt family lived in to observe the funeral; which was held in the apartment inside.
Many friends and strangers followed the burial procession to the cemetery. Harry Watt's coffin was escorted by members of the International Order of Odd Fellows while Louisa Filter's coffin was escorted by clerks from the Petersen & Sons' Dry Goods Store.
The procession included the Great Western Band playing dirges. A few days before his death, Harry, a musician, had made a pact with a friend that when the first friend died, the other person would play at his funeral. His friend, being a member of the Great Western Band, fulfilled the promise by bringing the entire band to play the funeral.
At Oakdale Cemetery, Mary Ann Watt was reported to have fainted as her husband and sister were lowered into their graves on opposite ends of the half lot she had purchased for them.
One newspaper reporter asked a family member if they didn't think releasing the suicide note might help end the gossip that had taken hold in Davenport relating to the joint deaths.
The family member responded, according to the newspaper, that the note was worse than anyone could imagine and it would never be talked of again.
That statement leaves a person to wonder about the accidental shooting in October 1878. Could it possibly have not been an accident after all? Without knowing when the romance between Harry and Louisa began it remains a mystery.
Eventually, the gossip died away. Mary Ann Watt never remarried. She raised her daughter and when she was older she moved in with Edna's family.
Mary Ann Watt died at age 84 on November 15, 1938 in Davenport. Her obituary celebrated the well-respected long-time Davenport citizen who had been married to a Civil War veteran. Harry, the newspapers' stated, had preceded her in death many years before. No mention of how he died or of Louisa.

Mary Ann was buried in Oakdale cemetery. She was placed between her sister and husband.
We are left to wonder if the bullet lodged in her chest had ever been removed and was it really an accident that had placed it there on that long-ago October day.
(posted by Amy D.)
*Mary Ann may have sought Camphor to use as a smelling salt due to its strong odor.
References:
Microfilm: 977.769 Scott County, Iowa Clerk of Courts Coroner's Reports – Unknown Man – Wichmann, Johannis
The Davenport Democrat, October 7, 1878. Pg. 1
The Davenport Democrat, October 8, 1878. Pg. 1
The Davenport Democrat, January 18, 1879. Pg. 1
The Davenport Democrat, April 5, 1879. Pg. 1
The Davenport Democrat, April 7, 1879. Pg. 1