Preparations for the new 1-74 bridge across the Mississippi River have been making headlines in our area newspapers lately, so we thought it was time to take a look at the bridge that's been connecting the two halves of the Quad-Cities for seventy-seven years.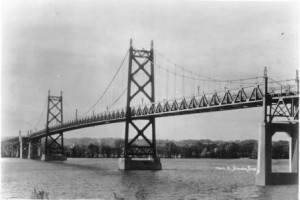 Due primarily to financial considerations, the original 1,480-foot span of the Iowa-Illinois Memorial Bridge (not including the anchorages) was owned and operated by the city of Davenport, even though was built three miles away, between Bettendorf, Iowa and Moline, Illinois.
The two-lane suspension bridge cost $1.46 million, with $330 thousand contributed by the Federal Public Works Administration.  It opened  November 18, 1935, and drivers were charged a toll—originally 15 cents—to cross.
The traffic over the Iowa-Illinois Memorial Bridge increased steadily over the next decade, and it became clear that an additional span was needed.
Construction began on the second span in 1958.   Loop ramps were added on the Bettendorf end to the east of the original bridge and west of the new span.  In Moline,  land was cleared for the approach to the new span at 19th Street and 3rd—the old had ended at 20th and 3rd—and the traffic patterns of that part of the city were changed to accommodate the predicted increase in flow to and from the expanded bridge.
The total cost of the new span was a little under $6.2 million.  It opened on January 20, 1960, making the Memorial Bridge one of the few twin suspension bridges in the country at the time.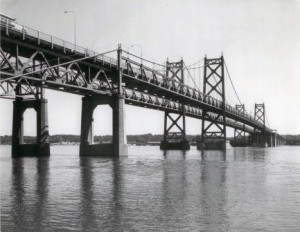 The bridge wasn't made part of the 1-74 corridor until the mid-seventies, when the Iowa and Illinois Departments of Transportation took over co-ownership and joint maintenance of the bridge.
We hope that the new bridge will serve our community, visitors, and passersby as well as the old one has!
_____________
For a detailed history of the first span and an extremely thorough examination of the construction of the second span, we invite our patrons to visit our Center and take a look at the final report to the Davenport Bridge Commission by the engineer firm of Modjeski and Masters.
This volume is in our catalog under the title,  Expansion and Improvement of the Iowa-Illinois Memorial Bridge (SC 917.7 Exp), and includes  photos, budget lines, traffic maps, and even road stress charts!