It is with great sadness that we learned of the recent death of Bernard Bailey.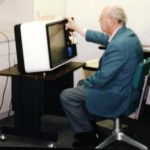 We first met Mr. Bailey in 1997, when, recently retired at the age of 81 and looking to be of service, he came to the library.   He chose to work in our Special Collections Center—well before it was renovated—and began indexing, by hand, the deaths and marriages in the 1950s newspaper microfilm.
Seven years later, he had clocked in two-thousand volunteer hours and we couldn't remember what we had ever done without him.
Mr. Bailey was a veteran of the second World War.  He enlisted in the Army Air Force on October 16, 1940, and completed his service on February 27, 1946. His stories and memorabilia have been archived in as part of our Center's World War II/Korean War Oral History Project. 
He and his family  moved to Davenport  in 1961 and worked for the Phillips Company as a distributor until he retired and began working for Foreman & Clark, a men's clothing store.  The store closed in 1996, but Mr. Bailey wasn't ready to sit around and do nothing—so he came to us and compiled several indexes of obituaries and marriage announcements.
He was one of our most loyal and generous volunteers.  He was also a kind man, a gentleman and our dear friend.
We will miss him.