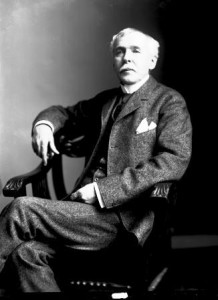 Son of the highly respected man who composed the
  lyrics to "America"; one time Mayor of Davenport,
  charter member of Davenport National Bank,
  organizer, director and attorney for Union Savings
  Bank; president of the Iowa Bankers' Association;
  vice-president of the Iowa Sons of the Revolution;
  past Davenport city council member;
  president of the Davenport Business Men's
  Association; president of the Children's Home
  Society of Iowa; director of Davenport's Academy of
  Science; Director of Davenport's Ladies' Industrial
  Relief Association; director of Davenport Library
  Association; attorney; husband, father, and
  resident of one of the most resplendent mansions
  in all of Davenport.
.
All of these things describe Samuel Francis Smith.
So does the phrase "convicted embezzler".
Smith was charged with larceny and willful and corrupt perjury in 1904 for the misappropriation of at least $65,000 from the estates his friends had trusted him to administer for their bereaved widows. Smith is said to have creatively borrowed at least another $40,000 from charitable organizations he was affiliated with. The New York Times reported on June 23, 1904 that an accounting found trust funds under Smith's supervision short $125,000.
Convicted in October of 1904 at the age of 68, Smith was sentenced to eleven years in prison at Anamosa, Iowa. Once perhaps the wealthiest man in Davenport, he claimed to be penniless at his trial. Poor health expedited his release in August of 1909. He died of a heart attack shortly thereafter.
(Posted by Karen)