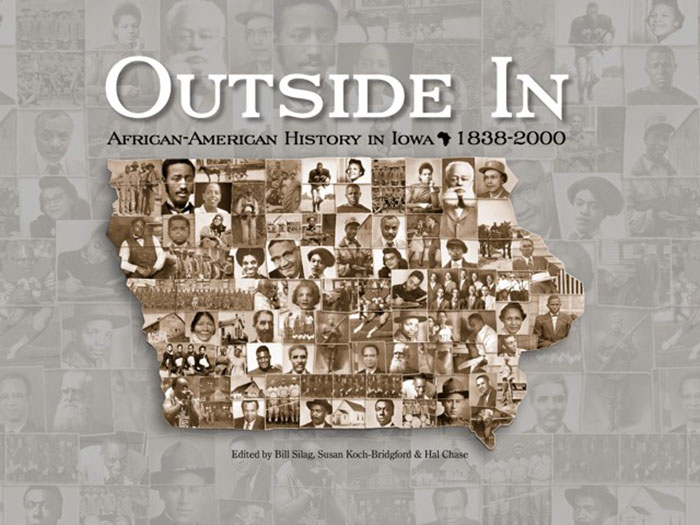 Race is a part of all Americans' history because we all have assumptions about it that affect how we relate within and across racial lines. For that reason, Outside In is a book for all Iowans, not just African-Americans.*
Outside-In is a project of the State Historical Society of Iowa, hoping to 'fill the void' of published works on the history of Iowa's African-America population. This book is the first major work to explore this rich history since the 1848 publication of Dr. Leola N. Bergmann's "The Negro in Iowa" and Dr. Dorothy Schwieder's book Iowa: the Middle Land in 1996.
One of the problems facing the researchers of Outside In was to locate the documents, records, and personal stories of 'regular people,' who were not scientists, politicians, or otherwise famous. As the introduction states, "Most were people focused on earning a living, some literally just surviving the challenges that faced them on a daily basis. Creating a record of their lives -saving precious documents or cultural artifacts-was not very high on their list of things to do."** But many of these stories, documents, and images were located and saved by the authors and appear in this work.
The city of Davenport comes up numerous times. It was in our city that Federal Marshall Laurel Summers searched a train for John Brown and twelve rescued slaves (including one baby born during the escape from Missouri) in 1859, not realizing that they were all hidden in the freight car. In 1915, George Woodson, a former slave and graduate of Howard Law School, led statewide public outcry against a Davenport theater's plan to show the "racially-charged" film Birth of a Nation. In August of 1963, over 2,000 Civil Rights supporters marched in Davenport, speaking out against job discrimination in the police forces in Davenport and Scott County.
Outside In tells the story of remarkable Davenporters like Cecile Cooper, who founded Quad Cities Negro Heritage Society and the Semper Fidelis Federated Woman's Club, and reminds us that Roger Craig, former running back for the San Francisco 49ers, grew up here.
Although Black History Month is the traditional time to take an especial look at the contributions of African-Americans to our country, county, and town, our shared history is not something to be dusted off and examined for only 28 days out of 365, nor would it be entirely possible to do so. So we ask you to keep in mind that the fascinating stories of Outside In are waiting for you in our Special Collections Center not just this month, but whenever you want to read the stories of extraordinary ordinary Iowans.
___
*Page xv
*Page xii
(posted by Sarah)