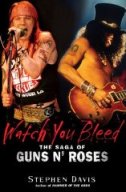 Perhaps the Chinese Democracy album by Guns and Roses is named as such because it will be a cold day in hell before it or the real thing happens. If it were a person, it would almost be getting it's driver license by now. Most of us were IN high school when they started working on it.
Two things you can be certain of after reading a bit of the new tell-all Watch you Bleed: The Saga of Guns n' Roses :
1) Lead singer Axl Rose (real name William Bailey) has a violent temper and inflated sense of self-importance. Peruse the list of original band members and countless replacements that now refuse to sit in the same room as him for proof.
2) Their breakout recording "Appetite for Destruction" is consistently in the top 40 rock albums of all time, and has been certified as platinum over 18 times with worldwide sales over 28 million. The band's lifestyle during this era was one ridden with Sodom and Gomorrah levels of excess as they climbed from the level of homeless drug dealers and grifters to multimillionaire addicts. The most shocking revelation is how none of them are corpses.
If you like Nicholas Sparks, this is NOT the book for you. However, it was penned by Stephen Davis, the same author as the definitive Led Zeppelin biography Hammer of the Gods.
The latest scoop is Chinese Democracy will be out around Thanksgiving. Of course, we've heard these whisperings before, only to be interrupted by another lunatic fit from the namesake's rebel who is now in his late 40's.
Although, the Cubs have a good shot at the World Series this year, so who knows?