guest post from Georgann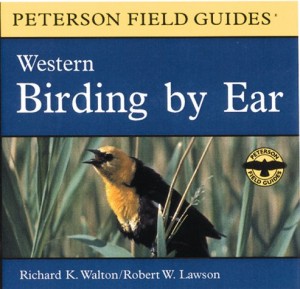 I gladly opened my doors and windows to enjoy this wonderful spring weather. I love sitting in my kitchen, listening to the birds singing away. I thought to myself this year, as I do every year, I ought to learn to identify some of these songs. Then a patrons came into the Eastern Branch Library where I was working, all excited to tell us he had just heard a meadowlark for the first time in years! And I thought, "I don't know if I'd know a meadowlark if I heard one!" So I checked out Peterson Field Guides Western Birding by Ear.
The stated goal of the authors is to help people identify the bird songs they hear. Just what I wanted! The introduction recommends the listener to just learn one group0ing of birds at a time, so as not to get confused. While that is a great idea, I was having so much fun learning, I couldn't wait to keep on listening. And wouldn't you know? The next walk I took, I was quite confused!
I really enjoyed listening to this 3 CD set. The reader does quite well and seems to completely enjoy his job. I like the vivid words they use to try to describe the songs: liquid, gurgling, thin or blurry. I was amazed at how many of the songs were familiar. I learned many new facts. For example, did you know that the same bird species will sound different in different areas of the country? Southern accents for birds! I learned that some birds don't actually "sing' but the "song" comes from the way they move their feathers. I learned that sometimes, the most beautiful birds (ie hummingbirds, peacocks and pheasants) have the least beautiful songs. Some of the best singers are the most drab. Eastern and Central Birding, here I come!
Best of all, I recognized the meadowlark at the Eastern Branch!