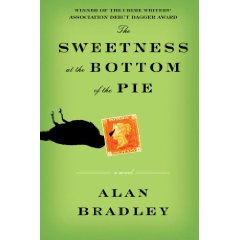 Flavia deLuce is one of the most winning heroines to come along in a long time – wickedly funny, whip smart with a passion for chemistry (especially poisons) – and all of eleven-years-old. The Sweetness at the Bottom of the Pie delivers this unique and charming voice in one of the best mysteries of the year.
It's 1950 in England where Flavia, her Father the Colonel and her two older sisters live at Buckshaw, their decaying family mansion. The family, in the tradition of English novels, is full of eccentrics with the Colonel proccupied with his stamp collecting, and Flavia's sisters having little time (or regard) for her. Flavia keeps busy in her well-stocked chemistry lab, plotting revenge.
When a murder is committed in the cucumber patch at Buckshaw, Flavia believes it is "by far the most interesting thing that had ever happened to me in my entire life". When her father is arrested for the crime, Flavia leaps to action.  Riding her trusty steed (bicycle) Gladys, she asks questions, investigates clues and begins to put together the web of intrigue. She's daring, resourceful and perceptive and gets to the answer quicker than anyone else. After all, who better than a young girl to find the answers – children are mostly unseen and their intelligence is usually underestimated, allowing Flavia more freedom then adults.
Readers will be happy to know that this is the first of a planned series of six books with the next title due early next year, where we can follow Flavia in another unique predicament.