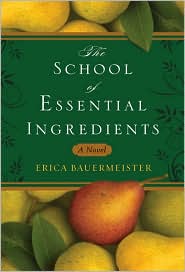 In today's fast food world full of instant puddings and potatoes, it is refreshing to read a book featuring real food. But The School of Essential Ingredients also features real people.  Each chapter focuses on a different student in Lillian's cooking class, revealing not only their own particular foibles and dilemmas, but also how they each contribute something satisfying and indelible to the mix. There's Claire, a mother struggling with the demands of her young children; Tom, a young widower still grieving over the loss of his wife to breast cancer, and Isabelle, an elderly woman tentatively dealing with the confusion of memory loss, to name but a few.
The book is satisfying on many levels. First, it just made me want to bake something — at times it seemed I could almost smell what they were cooking, even though my kitchen was very vacant.  Then, I got nostalgic, remembering favorite dishes from my childhood, and relishing how food often brought family together.  Finally, in a very subtle way, I witnessed the characters forming lasting relationships with each other and realized what a difference one person can make in another's life.
In this first novel (but third book) by Erica Bauermeister, it's obvious that she has a "love of slow food and slow life instilled by her two years living in northern Italy." She's whipped up a delightful, delicious dessert of a book.