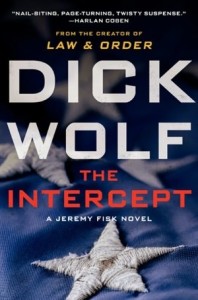 The Intercept is Dick Wolf's first book. Unsurprisingly, it feels like the start of a long-running series. The master of the successful drama, Wolf is the creator of  Law & Order and its many spin-offs.
Jeremy Fisk is an NYPD detective who works in the Intelligence Division, where police officers comb through bits of information from surveillance cameras, email and other computer data in order to uncover terrorist plots.
When a group of passengers and crew  foil an airplane hijacking, the new heroes are sucked into a media and pr machine. Some bask in the limelight and some are desparate to avoid it.
After chasing a few false leads, Fisk begins to suspect that the original attempt is a distraction and another bigger plot is the ultimate goal.
Fast-paced and full of insider information about terrorism and forensics, Wolf writes with an assurance and cool confidence well suited to the thriller genre.