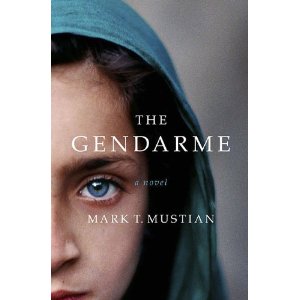 Emmett Conn is now a fully-Americanized 92-year-old man living in Georgia in The Gendarme.  But his story fades back in forth in time, to when he was still Ahmet Khan, a 17 year old Turk charged with deporting a large group of Armenians from Turkey to Syria at the start of World War I.  Emmett has recently been diagnosed with a brain tumor; it is unclear whether the tumor of the medications used to treat it are causing him to have vivid, sometimes terrifying dreams.  Or perhaps these dreams are the truthful but shocking memories of a past he has long forgotten?
A central figure in Emmett's dreams is the beautiful Araxie, one of the Armenian refugees who first captivates him by her unique appearance, but with whom he later becomes obsessed.  He is determined to protect her — indeeed the odds are stacked against her.  The conditions in the refugee camps are abysmal; food and water are scarce and many die from dysentery.  Of the original 2000 deportees, possibly only fifty are expected to make it alive to Aleppo.
It is an alarming fact of history that these forced death treks occurred.  But more alarming is that so few people know about it, and I include myself in that group.  Initially, I felt guilty about my ignorance, but these feelings were somewhat assuaged when the author (Mark Mustian, who is of Armenian descent) stated that he himself had not heard of the atrocity until well into his thirties.  Indeed, even the World Book Encyclopedia barely mentions it.  I quote: "The campaign reached a peak during World War I.  By 1918 about 1,800,000 Armenians had been murdered and thousands more had fled to other countries."
This was a fascinating book with a little something for everyone — adventure, danger, romance, much of it in an exotic setting.  Even the secondary characters, such as Emmett's daughter, Violet, were multi-dimensional.  Still, I think the best part of the book was how the author almost subliminally imparts a deeper message of peace and forgiveness, about how love can transcend race, religion and politics.