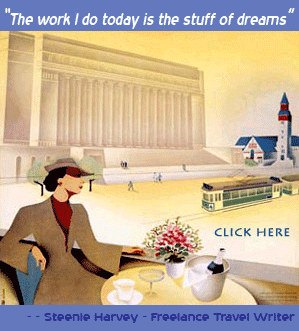 The Armchair Traveler is starting a travel writing series; Part I focuses on writers who excel in describing both the place and the process of travel.
The Art of Travel by Alain de Botton
de Botton excels in capturing the alternate reality and mindset that occurs when you leave home, especially when you are a solitary traveler. He describes the sensation of pleasant isolation and anonymity you experience on a train; or the phenomenon of marveling at the smallest differences in a foreign city.
As the Romans Do by Alan Epstein
This is Rome from the American point of view; the author moves his family to the city to experience the daily life of a Roman (getting an apartment, enrolling his kids in school, grocery shopping, etc.) as well as absorbing the cafe culture, soccer obsession, the Italian sense of fashion, and the passion for evenings spent in the piazza.
These pieces from newspapers, magazines and websites are edited by a Who's Who of travel writing (Bill Bryson, Frances Mayes, Anthony Bourdain, Ian Frazier) and range from the lighthearted (David Sedaris on an ariport layover and Bill Buford sleeping in Central Park) to New York post 9-11, and extreme adventures in Uganda and the Australian Outback.
Italian Journey by Jean Giono
This small book is both an appreciation of post-war Venice and philosophical reflections of why we travel. A Frenchman, Giono finds an oasis of beauty and quiet after experiencing the more obvious attractions of Naples and Capri.