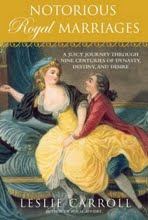 For a fun and scandalous look into the history of royal matches, pick up Leslie Carroll's Notorious Royal Marriages: A Juicy Journey Through Nine Centuries of Dynasty, Destiny and Desire.  Carroll covers a long history of royal marriages beginning with Eleanor of Aquitaine in the Middle Ages and ending with the divorce of Prince Charles and Princess Diana.   A few of the gems in Notorious Royal Marriages include:
*King Henry VIII's six marriages in which he had two wives, Anne Boleyn and Catherine Howard, beheaded;
*Emperor Franz Joseph and his cousin bride Empress Elisabeth (Sisi) of Austria whose marriage started out with promise but became cold and impersonal after the tragic death of two of their children and her eating disorder;
*Tsar Nicholas and Tsarina Alexandra of Russia whose love story ended when they and their five children were killed during the Russian Revolution;
*British ruler King Edward VIII and Wallis Simpson's marriage in which the ruling monarch gave up the British crown to marry the twice divorced American.
Each couple has their own chapter so it is easy to for you to skip around the book easily, too.  You may think you know many of these stories, but Carroll adds new information that makes it difficult to put the book down!