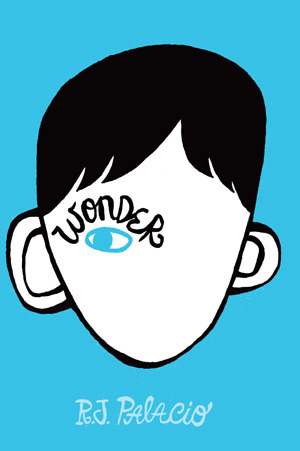 Wonder by R.J. Palacio: This book came into my life like a freight train of emotion and steamrolled over everything else I was doing. Auggie is starting fifth grade after being homeschooled for the previous five years: he has extreme facial deformities that make going out in public an almost unbearable trial. Everywhere he goes, people stare at him and whisper to each other. Auggie almost always notices, and wants so very much just to be normal. Inside, he's as normal as any bright ten year old can be – he adores Star Wars, he likes to play Halo, he's read all the Diary of a Wimpy Kid books, and Halloween is his favorite holiday (since everyone is wearing a mask, he can too, and goes around just like a truly normal kid).
But Wonder isn't just about Auggie, though he's the main character. This is one of the few children's novels I've seen that uses more than one narrator, and it's surprisingly effective. Palacio doesn't get carried away trying to make each narrator sound distinct (which would complicate matters for young readers): she uses a similar voice for each of the six viewpoint characters, letting their experiences and their emotions differentiate between them rather than her writing style.
This is a happy-sad book. Some moments will stab at you and make you weep, but overall you'll feel rewarded and uplifted and most of all lucky: lucky to have met August, a character of such everyday bravery that you won't soon forget him, lucky not to have the cascade of medical afflictions that have made him so remarkable, and lucky to have this beautiful book as a reminder to always be a little more kind than is necessary.