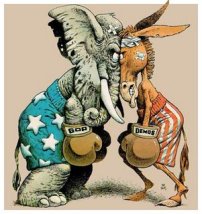 In just under two months it will be over. You can a) duck and cover until the smoke clears, or b) eagerly watch how these races are unfolding.
But, you don't need a network talking head to monitor the gallons of ink and glowing pixels expended on the elections until November 5th…you can check on them yourself in mere seconds.
Zogby and Pollster are impartial data-gatherers with simple and interactive maps refreshed every time new numbers come in.
When the fated day comes, the library receives many calls about where to go to cast a ballot. The answer is found by typing in your address on the Scott County Auditor's site.
Here are the local contacts for the McCain and Obama Campaigns:
McCain Eastern Iowa Victory Office
1880 E. 54th Street
Davenport, IA 52807
Contact: Amanda Sebastian
asebastian@iowagop.org
Scott County Obama HQ
901 E. Kimberly St
Davenport, IA 52807
563-386-1721