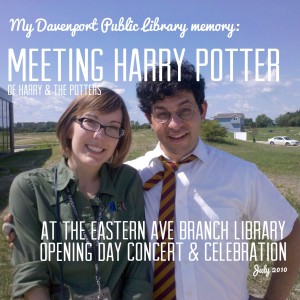 Sit back, curl up with a blanket, and hug a book–It's time to reminisce about the library:
Five years ago, did you take a selfie with your favorite band, Harry and the Potters, at the Eastern Ave. Branch Library Opening Day celebration? Yup, that's me!

Twenty years ago, did the children's librarian know you by name and always have the newest Garfield book ready for you? I loved those books. Hmmm maybe I should check one out again…

Fifty years ago, how did you feel when you learned Davenport's Carnegie Library would be torn down? I imagine that the Carnegie's Reading Room was both glam and cozy.
We absolutely love when people share their favorite memories of the Davenport Public Library with us, and this week we hope you will share your favorite memory with everyone! This week is National Library Week and Davenport Public Library asks you to help us celebrate by sharing your favorite moment, photo, quote, feeling, book that reminds you of the awesomeness of your local library.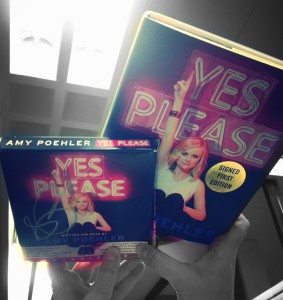 We will be choosing two of our favorite memories posted between April 12-18, 2015 to win an autographed audiobook or book of Amy Poehler's Yes, Please (provided by @harperaudio) and one kid's memory to win a Jelly Belly Bean Machine. Post your memory and use the hashtags #DavenportReads #YesPlease so we can collect it (If you notice that we have not liked or favorited your post, it may not have appeared in our feed. You can always message us or email us directly at marketing@davenportlibrary.com)
Follow us all week (and all the time) on: