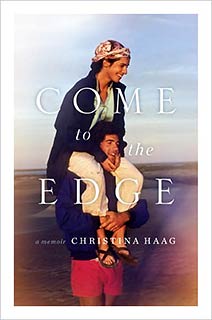 Christina Haag, childhood friend and later longtime girlfriend of John F. Kennedy, Jr. has written a moving and beautiful memoir of her years with him, Come to the Edge, which chronicles their lives from the 1970s to the early 1990s.
After meeting him as a young girl as one member of a large circle of friends in New York City, Christina Haag becomes a close friend and confidant of John throughout their high school and later college days.  After high school they both attend Brown University and learn that they share a love of theater both at Brown and later in New York City, where they return after graduation.  After starring together in an off-Broadway play, he confesses his love for her and they embark on a five year romance.  Her memoir tells of the human and personal side of their relationship that was far removed from the prying eye of the public.
She tells of their group dinners while roommates in college, trips to Cumberland Island in Georgia, their near death experience kayaking in Jamaica and of their normal, everyday life in New York.  Her recollection of a man who lived his life on the edge is poignant and reflective.  This is both a completely satisfying and heartbreaking memoir that tells the tale of  love, loss and what could have been.