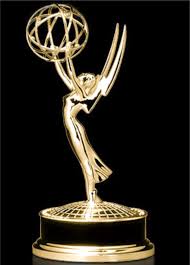 The annual 67th Primetime Emmy Awards will air on September 20 on Fox network. This is an award show that honors evening television programs. In total there were 567 nominations, with the HBO network nabbing 126 of them! The rest of the 441 nominations were split between 47 other networks. Game of Thrones leads the pack of individual programs with a whopping 24 nominations. Other noteworthy leading programs include American Horror Story:Freak Show –19, Olive Kitteridge – 13, Bessie – 12, and House of Cards, Mad Men, and Transparent (Amazon Prime exclusive series-library does not carry) with 11 each.
Most fans are interested in the big awards like Outstanding Drama or Outstanding Actress/Actor. This blog is going to get down to the meat and potatoes of it all. Below is the list of nominees for some of the big Emmy categories, a few fun facts, and my Emmy predictions. The library carries nearly all these titles, just click the title to go to the catalog. The rest are not on DVD yet, but keep checking our catalog for the rest of these titles to appear.
Outstanding Drama Series: Better Call Saul, Downton Abbey, Game of Thrones, Homeland, House of Cards, Mad Men, and Orange is the New Black. Traditionally, this category has been a love fest between Breaking Bad and Mad Men, with Homeland squeezing in the win in 2012. Does that mean that the new AMC series Better Call Saul will pick up where Breaking Bad left off? Better Cal Saul is a spin off prequel to Breaking Bad. Well I say let the new kid on the block pay some dues and make way for some of the other fantastic story lines in TV land.  Mad Men hasn't won an Emmy in years and apparently no one can decide if Orange is the New Black is a comedy or drama so I think those two are out. That leaves four solid competitors. Game of Thrones is hands down the best thing on television. It should get the win. The other three shows are great and have consistently been highly entertaining, but they just aren't Game of Thrones.
Outstanding Comedy Series: Louie, Modern Family, Parks and Recreation, Silicon Valley, Transparent, Unbreakable Kimmy Schmidt, and Veep. Modern Family has won this award every year since 2010. We get it! You're the best, now can we please let someone else have a turn? At this point, it doesn't matter to me who wins as long as it is not Modern Family. I'd like to see Transparent take the win even though they are a new show. Rarely do I root for the new guy, but this show is unique. It is tackling a tough topic while being streamed through to a very limited audience via Amazon Prime. A win will mean big things for Amazon and hopefully more great shows like this to come.
Outstanding Lead Actor in a Drama Series: Kyle Chandler in Bloodline, Jeff Daniels in The Newsroom, John Hamm in Mad Men, Bob Odenkirk in Better Call Saul, Liev Schreiber in Ray Donovan, and Kevin Spacey in House of Cards. Let it be Kevin Spacey, let it be Kevin Spacey, let it be Kevin Spacey. This is a great category full of amazing talent, its any man's game. Kevin Spacey has won many awards in his career because he simply is fantastic. But he was, as they say, born to play Frank Underwood in the Netflix series House of Cards, and he has yet to win the Emmy. My fingers are triple crossed for you sir.
Outstanding lead Actress in a Drama Series: Claire Daines in Homeland, Viola Davis in How to Get Away With Murder, Taraji P. Henson in Empire, Elizabeth Moss in Mad Men, and Robin Wright in House of Cards. Viola Davis has been the Belle of the ball this award season for her outstanding work on the new show How to Get Away With Murder. Sorry ladies, I think she has this one wrapped up.
Outstanding Lead Actor in a Comedy Series: Anthony Anderson in Black-ish, Louise C.K. in Louie, Don Cheadle in House of Lies, Will Forte in Last Man on Earth, Matt LeBlanc in Episodes, William H. Macy in Shameless, and Jeffrey Tambor in Transparent. Even if it doesn't take home the win for Outstanding Comedy, I'm pretty sure Transparent will take home this award. Jeffrey Tambor is amazing in this role and has already won a Golden Globe for it. Tambor plays a 68 year old man with three grown children, who is finally living openly as a woman. As I watch this show, I believe every second of what I see. Tambor is so real in this role, which makes the acting all the more marvelous.
Outstanding Lead Actress in a Comedy Series: Edie Flaco in Nurse Jackie, Lisa Kudrow in The Comeback, Julia Louise-Dreyfus in Veep, Amy Poehler in Parks and Recreation, Amy Schumer in Inside Amy Schumer, and Lily Tomline in Grace and Frankie. I feel like I'm taking a shot in the dark here. Julia Louise-Dreyfus has won this award for the past three years, so I just can't pick her. It would be interesting to see Amy Schumer or Lilly Tomline to pull out the win with their first nominations for these roles. However I am going to go out on a limb and give it to Lisa Kudrow although she was my least favorite "friend". Her show The Comeback had it's first season in 2005 and  then went on a 9 year hiatus before returning to HBO in 2014. She's out of the gate with an Emmy nomination, maybe even a win.
Outstanding Miniseries: American Crime, American Horror Story: Freak Show, The Honorable Woman, Olive Kitteridge, and Wolf Hall. What a great category. I highly recommend watching them all. I've narrowed this down to The Honorable Woman or Olive Kitteridge. It is a coin toss, but I'm going with The Honorable Women. I think Maggie Gyllenahl can be very powerful on screen and she hit her sweet spot with this.
Outstanding Television Movie: Agatha Christie's Poirot: Curtain, Poirot's Last Case, Bessie, Grace of Monaco, Hello Ladies: The Movie, Killing Jesus, and Nightingale. HBO and Queen Latifah can do no wrong. HBO's Bessie will be the big winner here. This made for TV movie based on the life of blues singer Bessie Smith has been all the rage.
For a complete list of nominees visit 2015 complete list of Emmy nominations.
For more fun facts visit 2015 Emmy facts and figures.
For more 2015 Emmy predictions visit any of the sites listed below. I promise I didn't look!