Hello Challenge Readers!
How has the month of March been treating you? Have you found a great book or movie set in Japan? For many of us (and this is a massive over-generalization), the Japanese culture can be very foreign in a way that Europe is not. Western European culture permeates our lives here – even if we have no European blood, we easily recognize and mostly understand their literature and customs (this seems especially true of Great Britain whose power and influence at one time stretched across the globe). Japan, on the other hand, was closed to foreigners, with few exceptions, for centuries and sometimes seems to be an enigma even now.
Of course, no matter our differences we are, at heart, much the same – we love our families, we know pain and joy, great tragedy and incredible luck. It's simply the setting and the way our society teaches us to handle these truths that is different. And isn't that why we travel and why we read about other lives? To understand our differences and to see our similarities?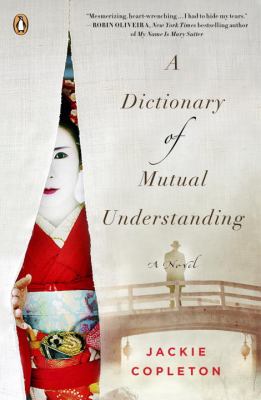 I've read an incredibly good book for our Japan adventure – The Dictionary of Mutual Understanding by Jackie Copleton. One day Amaterasu Takahashi opens to the door of her home in the United States to a young man with hideous scars on his face and hands. He claims he is her grandson Hideo Watanabe who she believed had died when the bomb was dropped on Nagasaki in 1945, forty years ago. She is understandably skeptical and wary and also frightened – his appearance reopens a very painful part of Ama's life, of family secrets, betrayals, regrets and loss, pain that she has shut away and is now forced to confront.
What follows is a look back at Ama's life, her poor, desperate youth, the daughter she protected fiercely, the husband who brought her a measure of peace. When the Allies drop the atomic bomb on Nagasaki, both Ama's daughter and grandson were within the bomb blast and though they search for days, weeks, months, Ama and her husband are unable to find anything of their beloved child and grandchild. Eventually they move to the United States and Ama is able to fairly successfully ignore the pain of the past – at least until the man claiming to be Hideo arrives.
Descriptions of the day of the bomb and its horrible aftermath are vivid but not sensationalized. And while the fact of the bomb is a shadow throughout the book, it is not an the focus of the story. It is simply an unchangeable fact, a division between the past and the future. And while this may sound like a grim, depressing novel, it is actually about finding joy and accepting happiness and learning to not just survive, but to live.
I also liked that at the beginning of each chapter a Japanese word would be defined and explained. These words usually described concepts that are uniquely Japanese values and do not translate easily to English or to Western society. Many of these concepts are rooted in the ancient history of Japan and Buddhist philosophy and are a fascinating clue to what makes Japan distinctive. This added a lot of depth and understanding to the actions of the characters. This is one of those books that you keep thinking about long after you finish. Highly recommended.
What about you? What are you reading this month?