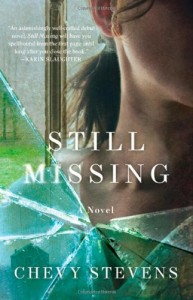 In Still Missing, the debut novel by Chevy Stevens, Realtor Annie O'Sullivan had only a few things on her mind the afternoon she finished her latest open house.  She was late to meet her boyfriend, she was still reeling from a fight with her mother and she really wanted to sell a house.  Annie was thrilled when a last minute, prospective buyer pulls up asking to see the house and introduced himself as David. 
Hope for a house buyer turns to horror when, after climbing the home's stairs, David forces a knife in Annie's back.  He coerces her into his van and into a nightmare of epic proportions.  Before driving away from the house he drugs her and then takes her to a remote wilderness cabin intending on holding her captive for the rest of her life.  Annie's kidnapper, who she refers to as "The Freak" has a twisted scheme to make her the perfect submissive wife – or else.  Eventually, Annie reaches her breaking point with her captor and the outcome is deadly. 
Told in alternating chapters between past and present, Still Missing is a suspenseful journey that holds unbelievable twists and turns  culminating at its shocking end.  Chevy Stevens is definitely an author to watch – her second novel will be released this July.