On Monday, May 12th, U.S. Immigration and Customs Enforcement (ICE), raided Agriprocessors Inc., a slaughterhouse in Postville, Iowa. This was not only the largest ICE raid in Iowa, but in fact the largest single-site enforcement operation of it's kind in the country. The over 300 detainees include Guatemalans, Mexicans, Israelis and Ukrainians. While this story has been widely reported in the local media, little has been said about Agriprocessors Inc., other than that it's the largest kosher meat packing plant in the country.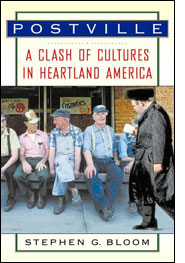 Although not a new book, Stephen Bloom's, Postville: A Clash of Cultures in Heartland America, is an especially timely read that explains much about what is occurring in the small northeastern Iowa town. In 1987 a Brooklyn butcher purchased an abandoned slaughterhouse just outside the city limits of Postville. The town of about 1500 people had become economically stagnant so they welcomed the opportunity for new business growth, and saw little concern that the new operators of this plant were Lubavitchers, ultra-Orthodox Hasidic Jews. By 1996, Postville, which had hardly ever had any Jews, now had more rabbis per capita than any other city in the U.S. The success of the plant also brought an onslaught of immigrant workers to the area. Relations between the the Midwestern Lutherans, who dominated Postville, and the Lubavitchers, who traditionally live and work within their own closely knit community, soon broke down.
Bloom, a University of Iowa journalism professor weaves the story of this small divided town into his own search for cultural and religious identity. He does an excellent job of exploring what it means to be an American, the limits of diversity and community, and the nature of community. In light of Monday's raid, Bloom's work provides an insightful history of Postville and Agriprocessors Inc.