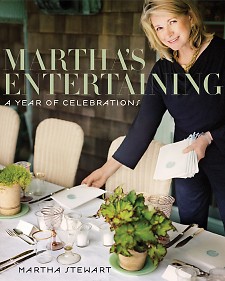 In this exquisite and very personal book, Martha Stewart welcomes you into her world, where she entertains in the beautiful style that she has made so famous. Whether a simple blueberry breakfast on a Sunday morning in Maine or a more lavish holiday dinner at Bedford, each of the gatherings is equally memorable, for what Martha cherishes above all is spending time and sharing delicious food with her family and friends.
Featuring elegant and casual affairs held throughout the year and a diverse collection of enticing recipes, Martha's Entertaining shows us—in the broadest and most lovely fashion—what it really means to entertain and host today. From an afternoon Easter egg hunt for children to a festive Halloween dinner held inside her horse stable to a spring garden fête amid the most glorious beds of peonies, Martha's parties offer a glimpse inside her beautiful homes.
All of the events feature menus and delicious yet approachable recipes: Tomato and Gruyère Toasts, Mini Crab Cakes with Tarragon Tartar Sauce, Tiny Tuna Burgers, Braised Short Ribs, Roast Turkey Breast with Sage Butter, Rhubarb Crumbles, Blueberry Jam Tartlets, and Chocolate Honey Ice Cream with Butterscotch Sauce, plus some of Martha's favorite drinks, including Pomegranate Cosmopolitans and Honeydew Mojitos.
Set among Martha's dining rooms, kitchens, gardens, and patios, this is her most intimate book yet, a new classic for hosts and home cooks of every generation. (description from publisher)