Here are some new books that should tie-in well with Mother's Day.  After reading the reviews, I know I'm looking forward to reading both of these titles.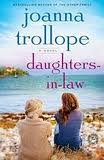 In Daughters-in-Law, author Joanna Trollope explores how Rachel's life has changed since her three sons have grown up and married.  Once accustomed to being the center of her family, she now finds her position as matriarch slipping away.  She also realizes that other women — the daughters-in-law — are now the main focus in her children's lives and it's a bit disconcerting.  Will she be able to find a way to still preserve the relationships she's held dear for so long?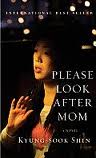 Please Look After Mom by Kyung-Sook Shin received a starred review in Library Journal, which declared that it "should be one of this year's most deserving bestsellers."  Basically, the story concerns a family's search for their mother, who has gone missing in a crowded Seoul subway station.  In probable fashion, the children argue over how best to find her, while her husband returns to their country home in hopes she'll return there.  Meanwhile, each recalls their own memories of her and wonder if they have lived up to her expectations.  The book concludes with Mom's own version of the story, and the reader learns what really happened that day.  Sound intriguing?  Check it out and have a Happy Mother's Day!