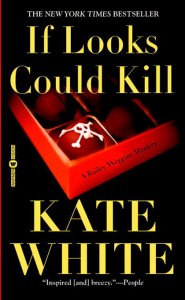 As someone who loves to read mysteries and is always on the hunt for another series to start, I stumbled upon the Bailey Weggins mystery series by Kate White and just finished If Looks Could Kill, the first book in the series.  Bailey Weggins is a freelance writer of crime and human interest stories for the monthly fashion and lifestyle magazine Gloss.  Early one Sunday morning Bailey is roused out of bed by her boss and the editor of Gloss, Cat Jones, who can't get her live-in nanny, Heidi, to answer the door of her basement suite.  Bailey springs to action to help her boss figure out where Heidi has gone – and it isn't far – when Bailey discovers the nanny dead in her suite.  Cat pleads with Bailey to use her sleuthing skills to try and figure out why Heidi was murdered.  Bailey, who puts her investigative skills right to the test, dives into the case.
The mystery heats up when it is determined that Heidi died from eating poisonous chocolate truffles that were an intended  hostess gift for Cat.  Who was the intended victim – Cat or Heidi?  Bailey uncovers evidence that points to someone trying to poison the editors of high profile magazines and she puts her life at risk with her unofficial investigation.
If Looks Could Kill is a light (as far as mysteries are concerned) and easy read that effortlessly blends fashion, vibrant New York City life and murder.