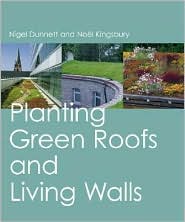 With the growing concern for the environment and its health, the relatively new (to the United States) practice of installing plants on roofs and walls is beginning to take off. Called green roofs, they provide several environmental benefits including:
-reducing pollution and water run-off
-insulating against heat and cold
-reducing the maintenance needs of buildings
You can see examples of green roofs in action right here in Davenport, including the new Davenport Police Department and and a demonstration garden on the roof of the pump station (located near the fountain) at Vander Veer Botanical Park. Pictures and descriptions of these roofs and others throughout Iowa can be found at Iowa Life Changing, a division of the Iowa Department of Economic Development.
To read up on how to add a green roof to your property, including how to install it and what to plant as well as lots of examples of successful green roofs, check out Planting Green Roofs and Living Walls by Nigel Dunnett, and Noel Kingsbury.