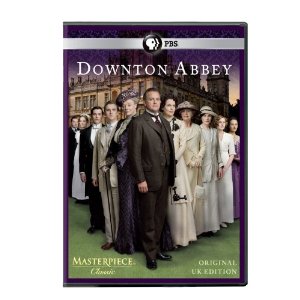 Family politics, secret lovers, mysterious deaths, thwarted love – it's all here, dressed up in exquisite Edwardian detail, surrounded by the lush beauty of the English countryside of the wealthy. Downton Abbey brings the trials and tribulations of a noble family and their various servants to life in this wonderful new series from the BBC.
Lord Robert Crawley and his family live in quiet luxury in their beautiful Yorkshire estate supported by a fleet of servants. Their leisurely life is shaken when the sinking of the Titanic takes Sir Robert's heirs. Because he and his American-born wife have only daughters, in accordance to English law when Sir Robert dies, the estate will now pass to a distant male cousin previously unknown to the family. Prepared to despise the new heir (who actually works for a a living as a solicitor), the family instead find themselves becoming fond of Matthew and his strong views of fairness. Can the eldest daughter Sybil admit to her growing feelings for Matthew, or is she only thinking of saving the family estate when she considers marrying him?
Meanwhile, various dramas unfold below stairs. A new valet, who shares a mysterious past with Sir Robert, is hired and Thomas the footman schemes against him. A maid must help Lady Crawley hide a terrible secret and the loyalty of the servants is tested again and again as their lives intertwine irrevocably with the family.
As you would expect from the BBC, the production values of this series are flawless – costumes, sets, writing, photography and acting are all top-notch. The advantage of the DVD set is that while four shows were seen on PBS earlier this year, there are seven shows available on this DVD as well as making-of specials and commentaries. A sensation in England, a second season set during World War I has been filmed. After seeing the first season, you'll be anxiously awaiting it's arrival in the US!