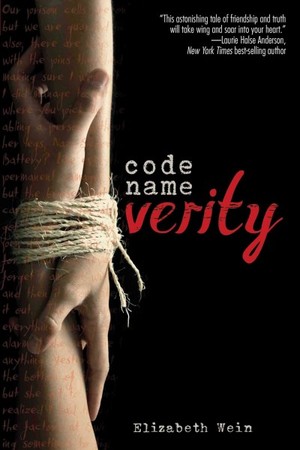 The less said about the plot of Elizabeth Wein's Code Name Verity, the better. "Careless talk costs lives," say our heroines, and in a tightly plotted and breathlessly suspenseful book like this, you won't doubt it. Verity is a prisoner of the Gestapo in occupied France, writing out her confession. Maddie, a young woman pilot, is a part of that confession. As Verity writes, she confronts and examines her beliefs and her fears.
And that's about all I can tell you.
I am not (usually) a lover of war stories or YA novels, but this one is just too good to miss. The characters are vivid, the plotting is superb, and the immersion in wartime Europe is complete. I loved reading about women in war – active, brave, brilliant women – instead of men. It's more than a story of torture and war and espionage: it's about life-changing friendship, love, incredible bravery, and the difficult choices we face (whether our lives are ordinary or extraordinary). Everything about this book was refreshing, surprising, exhilarating, and beautiful (even when it was terrifying). I wanted to reread it as soon as I turned the last page!