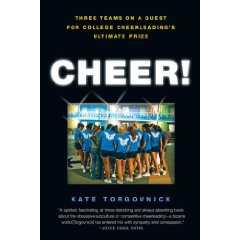 Cheerleaders are usually portrayed as air-headed and dumb, the sport is often the butt of jokes and in this age of equal rights, it's considered anit-feminist to be part of a squad. The truth, of course, is very different.
It wasn't that long ago (before Title IX in the 70s) that cheerleading was often the only organized sport available to high school and college women. Today, competitive cheerleading (not the silly dance steps performed by squads at professional football and basketball games) is a scholarship sport at hundreds of colleges, with National Championships held each year in April that are shown on ESPN. Like any college sport, it requires rigorous practices, learning specific skills, staying in excellent physical condition and game day situations. It is also plagued by the same problems – illegal drug use, often serious injuries and eating disorders.
Just in time for opening of college football. Cheer! by Kate Torgovnick takes you through a typical season with the squads from Stephen F Austin, Southern University and the University of Memphis. You'll go behind the scenes, experience the hard times and the fun times and come to love the people of each squad. Well-researched and detailed, Cheer! will give you new insight into – and respect for – the world of cheerleading.